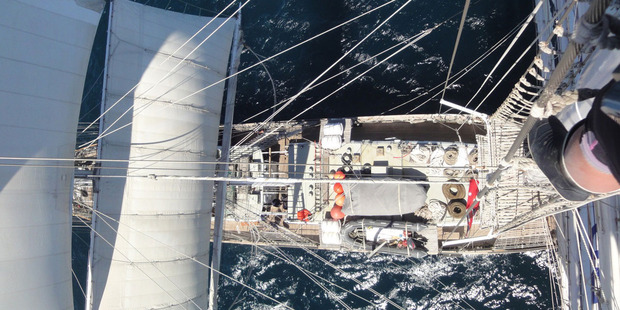 "But we won't cover you for climbing the rigging or working on the masts," Rachel explained prior to playing me a recorded message laying out the terms and conditions of my travel insurance policy.
Of course I agreed, before the professionally-voiced terms and conditions rolled on for - I don't know, anywhere between one minute and four hours. I may have nodded off at one point.
"Does that all make sense?" Rachel roused me back to consciousness.
"Yep, sure," I replied, as much sense as insurance policy fine-print ever does.
It's probably not ideal to make insurance decisions based on spoken-word clause recitation rather than hard-copy scrutiny but I was in a hurry.
I had spent most of the day negotiating with various insurance companies and brokers, attempting to secure cover for a 10-day sea voyage on the Lord Nelson - a tall ship run by the UK-based Jubilee Sailing Trust, currently on an inaugural round-the-world trip.
(Incidentally, the Lord Nelson is due in Auckland next week - keep a watch out for it.)
Due to the last-minute nature of my boarding instructions, sourcing tall ship travel insurance (which was a pre-condition of sailing on the Lord Nelson) in New Zealand was a major headache.
While one firm at first agreed to provide cover, upper management later overturned the decision. Most of the companies and brokers I called rejected the prospect at the first mention of something out of the ordinary.
In fact, the whole exercise exposed a real inflexibility and lack of imagination on the part of the New Zealand travel insurance industry. I don't know why it was so difficult to tailor a policy for my circumstances - is it too much to expect creativity from insurers?
Later at sea a shipmate speculated that because New Zealanders are covered by ACC in territorial waters, insurers have no motivation to offer much in the way of local travel products.
Standing out on the yard-arm, setting the top-sail as a roaring southerly hit Picton, I thought what a shame it would be for insurance concerns to scupper such fun: the view alone was worth the risk.