$100 million system, selected because of its proven worldwide track record, shouldn't be so temperamental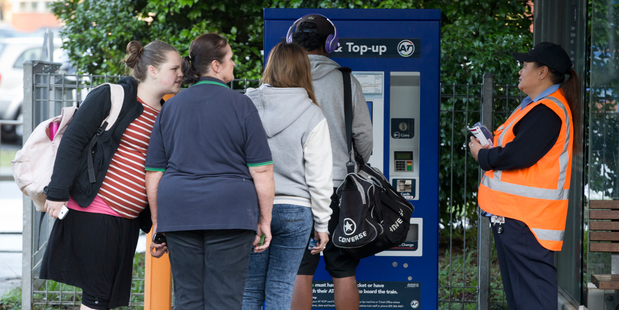 Auckland Transport really has no sense of occasion. As the four-year-long saga of its $100 million integrated ticketing drama staggered into the final straight last week, the least they could have done was hand out "I survived the Hop card changeover" T-shirts to their long suffering customers.
Last week it was the turn of the various Link and assorted isthmus bus passengers to swap over from the purple Snapper Hop card to the new dark AT Hop card.
Next Monday a new group of passengers moves to the front of the queue. I can't tell you which ones, because for some bizarre reason, Auckland Transport is acting like an Indonesian execution squad, refusing to give victims any prior warning of their appointed date with destiny.
For those of you who turn up with your old cards today, blissfully unaware they're suddenly redundant, the one bit of good news is, with luck, when you present the suddenly dud card, your shell-shocked driver won't demand cash, or toss you off the bus as did happen earlier on. He'll just mutter "it's free today" and wave you down the aisle.
That's what happened on my bus last week for the first three days of the revolution anyway.
For a system as troubled as this, it's hardly surprising the public roll- out has been less than perfect.
Though it is hard to understand the inadequate promotion, which had many passengers unaware they should have purchased a new card.
Why was there no on-bus publicity material? With a captive audience, posters on the bus interiors explaining the change-over seem an obvious ploy.
Getting a free replacement card was unnecessarily difficult as well. The only way was via the slowly self-destructing AT website. When I tried, the website initially denied I had previously registered my old card, then when I did as I was told and tried to enrol as a new subscriber, it told me I was already registered, and to go back to square one. Then it decided my password was wrong, then it spat the dummy and told me my version of Windows Explorer was too primitive, even though I was using Firefox.
A helpful help-desk person assured me she'd sorted out the problem. But a week later, when I rang to inquire why the card hadn't arrived, I was told I didn't exist.
It was reassuring to receive a message from a learned professor the next day, outlining his similar tale of woe. He tried to register his card using Firefox on a Mac and was told to use Internet Explorer 8. He tried the Safari browser and got the same message. So he downloaded Internet Explorer for a Mac, but it proved worse than the other two.
While on hold, waiting for help-desk assistance, he experimented with Firefox again and it worked ... for a while. Then AT gave him the bum's rush. The help-desk person told him she had filled it in from her end and to log out and log in again and all would be well. You've guessed it. He couldn't log back in. He went for a lie-down instead.
In my case, Auckland Transport PR people finally couriered me a card (I didn't ask) and I eventually registered on line - with the help of the help-desk again - and loaded money.
But surely a $100 million system, selected because of its proven, worldwide track record, shouldn't be so temperamental.
Ongoing customer service seems poor. To transfer your leftover cash balance from the purple HOP card to the new one - you can't get a cash payout - you have to front up in person at the Britomart train station, or just 15 shops or stations citywide.