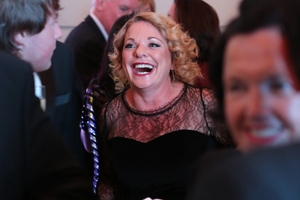 Although I'm trying not to do any MCing this year, I couldn't turn down the opportunity to help the New Zealand Herald celebrate it's sesquicentennial birthday. I also relished the opportunity to use the word sesquicentennial - something I haven't been able to do since the nation celebrated this milestone birthday in 1990.
The Herald and I go way back. My first published work appeared in the Herald when I was 5 years old - a poem I had written featured in the children's Christmas holiday section.
I believe I was paid the princely sum of a $5 book voucher - and as a columnist I can tell you that pay rates haven't changed all that much since then.
Still, it helps pay the mortgage on a home in an area of Auckland that, 150 years ago, my forebears would have worked five jobs to get their family out of.
And it's thanks to the Herald I became a page 3 girl. When I proposed to my long-time partner on leap year, the Herald featured me in a story of leap-year proposals and plonked a big picture of me alongside it.
This year, at our wedding reception in the Coromandel, the Herald featured again.
My editor had kindly run off 150 copies of that particular page announcing my proposal so the fish and chips we were serving could be wrapped in it. Those of us who work in newspapers are under no illusions that yesterday's news is indeed tomorrow's fish and chip paper.
It's a wonderful achievement for the New Zealand Herald to have survived so long. Plenty of others have come and gone but the Herald has had the tenacity, ingenuity and adaptability to enable it to survive.
I hope I have the same attributes because I'd love to be around to toast the old girl on her bicentennial.