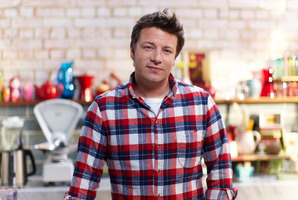 As a father of one son and three daughters, celebrity chef Jamie Oliver deserves ridicule for idiotically naming them Buddy Bear, Petal Blossom Rainbow, Poppy Honey Rosie and Daisy Boo. But Jamie gained partial parenting respect when he made the news by confiscating his schoolgirl daughters' cellphones. They are now the only ones in their classes without them.
I say partial as his expressed reason was to protect them from cyber bullying. This seems mainly a girl thing, thus the prohibition wasn't applied to his son. But my word, there are lots of other justifications for keeping teens' cellphones rationed, plus weaning them off computer obsession, as epitomised by a letter I received recently from a now retired newspaper editor friend.
It comprised a single line, "Albert was right. It's here", and included eight captioned photographs. The first showed Albert Einstein with his accompanying quote, "I fear the day that technology will surpass our human interaction. The world will have a generation of idiots".
The remainder showed groups of teens in different settings. Two entitled "Out on an intimate date" showed couples in a restaurant, all engrossed in their phones. Another captioned "Having dinner with your friends" had four teens at the table, heads down, gazing at their phones. "Cheering on your team" was a young man at a football game staring at his phone, "A visit to the museum" had three girls sitting on a bench in an art gallery with their backs to the paintings, heads down reading their inane messages. "A day at the beach" revealed four teenagers, similarly with backs to the sea, intent on their phones and, finally, "Enjoying the sights", this four teens in a coupe, all but the driver glued to their phones.
These photos came from America. I know that, as the male in the restaurant shot was wearing a baseball hat, a barbarous practice prevalent there, even in quality restaurants. Also, American art galleries, as on the Continent, are called museums, plus the football match involved Michigan.
That said, they could easily be taken in New Zealand but for one key difference, namely none of the 22 individuals were sufficiently mindless enough to have sunglasses on top of their heads, as they certainly would here, whether indoors or at night.
We are developing a world of halfwits. Still, the fightback is under way. Of all people, Randi Zuckerberg, the 31-year-old sister of the Facebook founder, has written a children's book about a little girl called Dot who's obsessed with technology and pays no attention to anything else.
The story recounts how she learns to unplug and begin enjoying the world beyond computers, phones and social media. Hopefully, this will be a forerunner of a campaign on the inane escapism of such obsessions, and parents and teachers will do their bit in attacking this corrosion.
I received a letter last week from Christchurch identity Reg Garters. One of Reg's many hats is an annual lecturing stint at a German university. He wrote of his students taking him to a pub before his return home.
On entering, one cried out "phones", whereupon out they all came and were placed in a pile. Apparently, on their own initiative they'd agreed the phones spoiled their social evenings. Our teens would be immensely the better by emulating these Germans and also taking cognisance of another, Einstein, and his warning, that is if they've heard of him, which is questionable.
In saying this, I am not decrying modern technology, which I find utterly mind-blowing. But there can be little doubt it has an addictive character, the most vulnerable being the young.
Much worse than cellphones is computer addiction, which is turning many into zombies, living a lonely existence of marriage to a cyberspace world.
These extraordinary tools should enhance life but for many have become life itself, a vicarious ethereal faux existence creating Einstein's predicted "generation of idiots". Having said that, I am mindful of history's alarmism accompanying every new significant innovation.
In 1935, the legendary lyricist Irving Caesar, responsible for Swanee, Tea for Two and other famous songs, expressed fears at the consequences from every home now having a radio. Apart from moral turpitude arising from families sitting around listening to radios instead of doing things, Caesar's major worry was the economic impact.
It will destroy our car manufacturing industry with everyone indoors, he fretted. Furthermore, it will wreck our cattle industry as demand for shoe leather will collapse with no one wearing out their shoes.
Still it should be noted that Caesar's fears were greeted with mirth, whereas I suspect sensible people will recognise there are real concerns about computer addiction and so-called social media obsession. The teenage years are the foundation for one's life and wasting them this way is tragic.