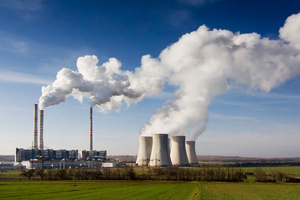 I do not understand photosynthesis but I know it happens because I trust and understand how science works. Objective, peer-reviewed analysis, tested and verified, with interesting results reported by the media.
This process works well for most things but it isn't proving helpful when it comes to global warming, which worries me, because global warming could be a bigger problem than twerking.
In recent years there has been a trend for some journalists to inject their political views into their reporting.
This means that although the media can be relied upon for things such as cellulite and mass shootings, where a degree of objective analysis is required the perspective of the reporter can taint the coverage.
Now, a curious feature of the climate change debate is that if I know your politics I can predict your views on global warming. This makes no sense.
The interaction of carbon molecules on the atmosphere is a science question, not a left/right political one.
Now, if I knew what the scientists thought, or could even understand what they wrote, the solution would be obvious. However, I struggle to understand Downton Abbey so there is no point reading the New England Journal of Anything.
I am reduced to Wikipedia.
What I have learned is that the deniers claim the global warming science is a hoax and they point to the fact that there has been no global warming for 17 years.
On the other hand, the science-based, United Nations-backed IPCC remains certain that we are cooking the planet; the current stall notwithstanding.
Because I cannot unravel the science, I look at the process that delivers the information. People tend to believe what suits them and believing in global warming is a downer. I want to think it is nonsense.
However, it does not seem credible to me that so many scientists and academics have been wilfully making the science.
I believe global warming is probably real.
That does not mean I am going to recycle my own bio-waste to save the planet. Like most people, I am not going to change my lifestyle to reduce the possible, but uncertain, risk of global warming.
If humans can't be motivated to exercise to avoid a heart attack we are not going to reduce our power consumption to reduce our carbon footprint, whatever that is.
The planet needs a source of energy that does not add to the release of carbon, and that is nuclear energy. Chernobyl and Fukushima are not great advertisements for that industry, but if carbon emissions are going to cause the sea to rise several metres, a few nuclear hot spots are a cheap price to keep the beaches where they are and not up near Parnell Rise.
Debate on this article is now closed.