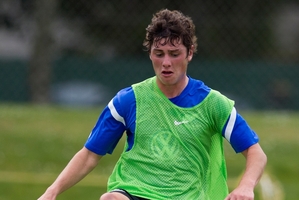 The All Whites v Mexico, and New Zealand soccer in general ... where to begin?
There's a lot riding on these World Cup finals qualifiers, beginning with the high-altitude clash in Mexico in seven days time. For starters, there's about $12 million in Fifa loot coming New Zealand's way if they can get to Brazil.
So, let's kick off with the good news.
Soccer is a strange game sometimes. New Zealand will be heavily outplayed, but that doesn't mean they can't draw, not lose too badly or even win.
Exhibit A is the All Whites versus Italy during the 2010 finals in South Africa.
The statistics indicate a road smash. The All Whites dominated two areas - fouls committed and yellow cards received. Elsewhere, it was an Italian landslide although their 56 per cent possession doesn't seem too extreme.
Italy had 23 shots to New Zealand's three, seven shots on goal to one, and 15 corners to nil. Who cares? It was one-all.
This is the other good news. New Zealand are punching above their weight in producing/obtaining class players, by hook or by crook. Winston Reid, Tommy Smith, Marco Rojas, Michael McGlinchey, Kosta Barbarouses and Chris Wood represent a handy crop of rising players for a country this size where soccer is played a lot but not that well by world standards.
Here's the bad news, and there's a lot of it. The irreplaceable Ryan Nelsen has gone, along with his influential mate Simon Elliott. Nelsen's replacement, Andrew Durante, doesn't look like an international defender to me and has none of Nelsen's command. We don't have a midfielder in Elliott's league.
It gets worse. Why the heck are the All Whites still relying on Tony Lochhead and Leo Bertos to play semi-defensive roles? (the soccer scribes are telling us they'll be in the starting lineup).
Lochhead has always been a marginal selection, and he doesn't even have an A-league club anymore. The Phoenix boss Ernie Merrick is on record as saying Bertos can't tackle - Bertos was the weak link in the lucky triumph over Bahrain four years ago.
Producing central influences to match the various abilities of Steve Sumner, Michael McGarry, Brian Turner and Elliott is always going to be a mission and New Zealand soccer has gone backwards in that area.
But Ricki Herbert has failed in the easier task of establishing alternatives to Lochhead and Bertos.
The build-up to these massive games - on which the image and finances of New Zealand soccer depends - has been haphazard and unimpressive.
Here's the impression I have of New Zealand Football. It has sat on the war chest from South Africa and failed to implement any noticeable strategies in building a new era for the national side, or invigorating the game on a domestic level.
Our soccer leaders face a tough deal on all fronts in a true world game and rugby-obsessed country, but there is a lack of imagination, innovation and drive from the top. An interesting role model is Belgium, an amazing, rising force after football bosses there engineered a surge about a decade ago.
One of the problems in New Zealand soccer (which for a time was a strength) is that it is too heavily based on the fiefdoms and direct playing styles of the Brits. This hasn't even worked for England, with all its resources, in a long time.
As a base concept, Belgium removed the emphasis on winning and switched it to skill. (A university study of hundreds of games had shown them that a win-at-all-costs mentality was counterproductive). They demanded/encouraged all teams - including professional ones - to adopt 4-3-3 playing formations using wingers. They introduced five- and seven-a-side football for kids and delayed the introduction of full-sized pitches. The best kids were pushed above their age levels. It took a while to get everyone on board, but the results are extraordinary. The bottom line: Belgium had a masterplan.
What is also strange is the lack of a buzz so far around these Mexican games.
Before the 2010 finals, two players in particular - Tim Brown and Ryan Nelsen - took charge of the PR assault at various stages because the national body wasn't doing anything. And it still isn't doing anything - for instance nothing was done to utilise the personalities that emerged from the last World Cup.
Maybe soccer is just another victim of the growing rugby dictatorship in this country - there was no end of piffle to digest about the All Blacks' world branding exercise against useless Japan.
And hey, I know, running New Zealand soccer is a tricky task. But those in charge don't seem to be grasping any bulls by the horns. A Belgium-type concept is a radical, constructive way to forge ahead.
...oh no I've just heard Winston Reid is out now. I take it all back, or most of it anyway. I don't think New Zealand have a chance without him.