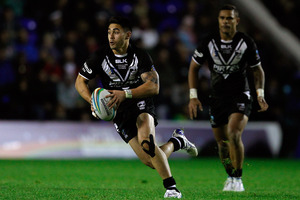 Until the weekend I was wedged somewhere between ambivalence and bemusement when it came to the Rugby League World Cup.
There are many farcical elements of the RLWC. The timing for one - held anywhere between three and five years, the tournaments seem to be scheduled whenever the host country gets around to organising it. Or perhaps it is because the international league calendar is so jam-packed they struggle to find room to squeeze it in.
The composition of the teams is another oddity. Countries where nobody bothers to play league have fielded teams made up of second tier or veteran NRL players with tenuous links to that country. Strewth, it hardly screams a true international event when you hear an Australian accent in every post-match interview.
Yet for all of league's rather clumsy attempts to turn the sport into an international powerhouse, the RLWC is turning out to be quite entertaining.
Part of the allure of watching any international tournament is tracking the progress of the so-called minnows. It's the Cool Runnings principle - convention dictates that every sporting event must have an underdog story.
Although in the RLWC those underdog teams are often cobbled together with players who in some cases you wonder if they've ever even visited the nation they represent, you can't help but get behind them. These part-time league nations are providing the bulk of the entertainment while the top-tier teams cruise through the round robin stages of the tournament.
The big story of this cup has been the USA Tomahawks' unlikely run into the quarter-finals. Competing in their first World Cup, the US side upset Wales 24-16 on Monday and are on the verge of advancing to the top eight, having earlier notched up a surprise victory over the Cook Islands in their opening match, and upstaged world number four France in a pre-tournament friendly.
The progress of the USA team has caught out the tournament organisers, who had already booked the team's return flights home before the competition began.
Italy, featuring some well-known league names including the Minichello brothers and Anthony Laffranchi, are another side doing their bit to keep the pool stages interesting, having also upset Wales in their opening match and followed up with a 30-all draw against Scotland earlier this week.
Given the NRL is one of the best club competitions in the world, the international scene is always going to suffer as a result. But there is still something surprisingly entertaining about this World Cup. It was expected the tournament would drag on until the crunch rounds finally delivered some competitive matches, fortunately for the organisers the Tomahawks had other ideas.