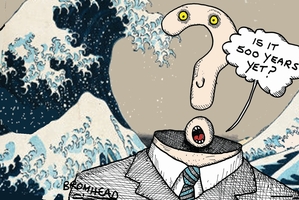 The great advantage of there being nothing in the public purse to build anything "iconic" on the Tank Farm peninsula any time soon is that we have plenty of time to fantasise. And as each day goes by, my enthusiasm for a grand folly rather than a boringly predictable museum grows.
On this, I'm with Unitec urban design professor Dushko Bogunovich. He wrote recently that building another "iconic" museum on this prominent waterfront location "could only elicit a yawn from the global audience. The world has built more than 100 such projects in the past 30 years".
Count me in on that yawn.
In one's lifetime there's only so many "old masters", ancient skeletons, prehistoric trinkets and intricately woven grass skirts a single brain is programmed to absorb. I maxed out on my quota one day in the British Museum, many years ago. Since then, my legs have a way of going leaden and hard to move, even before I catch sight of one of these institutions. If, as I suspect, I'm not alone in having used up my life's quota of museum visitations, then plonking one out on Wynyard Quarter in the hope it will attract tourists seems over-optimistic and a waste of money.
If visitors want a museum experience to remember us by, there's the world's greatest Maori and Polynesian collection already waiting for them in the big museum in the Domain, and if it's local art, the newly expanded Auckland Public Art Gallery beckons with its world's best New Zealand art collection. Enough there to surely satiate most cultural appetites.
Since Te Papa, the National Museum's recent announcement to shift some of its valuable collection out of earthquake and tsunami-prone Wellington and store it in a $33 million new repository in Manukau City, advocates of a Tank Farm gallery/museum have tried to hijack Te Papa's plans in a bid to achieve their own dreams.
Given the recent GNS Science report predicting a 2m to 4m tsunami striking Auckland every 100 years, and a 4m to 6m wave every 500 years, it seems rather foolhardy to regard a reclaimed promontory sticking out into the narrow Waitemata Harbour as a safer haven for the national treasures than their existing Wellington home.
Anyway, the modest building being planned by Te Papa - mostly storage, with display and educational facilities for a local audience - is different from the grand exhibition space suitable for globetrotting international collections that art guru Hamish Keith and his Te Papa North proponents have in mind. Given that Aucklanders - with help from central government - have spent more than $110 million on the upgrade of the museum, completed in 2006, and another $120 million on the art gallery rebuild which reopened for business just last year, is there really a market, or appetite, for another?
Which leaves the grand folly. If we didn't already have one, a tower might have been the answer. A giant ferris wheel springs to mind, but now that London has its great Eye, that's hardly unique either. I'm leaning towards Unitec's professor Bogunovich and one of his Heath Robinson brainwaves.
Back in 2000, he cut through the tedious debate over what best to replace One Tree Hill's fallen pine by proposing a giant solar-powered bionic "silicon totara".
It was to be an artificial broad-leafed, computer-driven nanny, devoted to nurturing and protecting real seedlings. If the ground was too dry, nanny would wet it, if the seedlings were hungry, nutrients would flow. If chainsaw-wielding activists appeared, protective shields would drop. He saw it as a showcase of local ingenuity and inventiveness, a 21st century cuckoo clock, a memorable piece of high-tech fun which would entertain and attract, for the 50 years or so it would take for the new tree to make its mark above the horizon.
We missed an opportunity then, but the Wynyard Quarter site seems an ideal venue for something similarly zany.
Professor Bogunovich has already floated the idea of creating a "tech-farm" on the site that farms clean power, stormwater, nutrients and calories from rubbish. He calls it a flagship project focusing on high-tech ways of securing the basics of life.
It's admittedly not as follyish as his silicon totara, but imagine what he or some other inventor might come up with if we were to put up the sort of budget a museum would cost, and call for proposals worldwide.