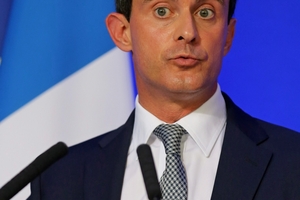 Your enemies are baying for your blood. Even some of your friends are calling you a bastard. Then there's your jellyfish of a boss, who supports you in the morning and rats on you in the afternoon.
By many measures, to be Interior Minister in France today is to have the country's toughest job. Only those with the resilience of a Deux-Chevaux, a hide as thick as the armour of a Leclerc battle tank and self-belief the height of the Eiffel Tower need apply.
Step forward, then, Manuel Valls.
In 17 months, the Spanish-born son of a Catalan artist has become France's most talked-about politician.
Buzzing with energy, demanding change, unafraid to shoot from the hip on trigger-sensitive issues, he brawls publicly with opposition conservatives and fellow Socialists alike. But among the public he is massively popular, making him a standout in a Government that has dismal support.
As Interior Minister, Valls is supposed to act as lieutenant to Prime Minister Jean-Marc Ayrault, yet he increasingly looks like his chief. And his tenacity is making President Francois Hollande look weak and indecisive. His latest approval ratings are a whopping 70 per cent, rising to more than 80 per cent among conservatives, compared to Hollande's overall 25 per cent, the lowest of any modern French president.
Many suspect that Valls has his eyes on the Elysee Palace itself for 2017. "France's top cop is riding high," says the daily newspaper Le Monde. "He has become the Cabinet's strong man. He is the one who determines the Government's line, talks straight and even gives himself the right to ... ride to the aid of the President, whose own authority is in a dangerous slump, by trying to find consensus."
Valls' stardom has come from the issue of immigration, where the far-right National Front is making gains.
He is pushing for the expulsion of illegal migrants, the most visible of whom are Roma, as Eastern Europe's ethnic gypsies are called. Many French people associate the Roma with begging, theft and trafficking; yet the group have also suffered historic marginalisation and persecution, which makes their case morally sensitive.
Instead of ignoring the Roma question or dealing with it silently as predecessors have done, Valls is addressing it head on. He ordered the dismantlement of Roma camps and the deportation of overstayers, and said the Roma have no will to integrate in French society - remarks that earned him a rebuke from the European Commission and moral outrage and resignation demands on the left.
Roma organisations threatened a lawsuit for incitement of racial hatred, and an anti-racist group, SOS Racisme, said Valls had "crossed a red line". His Cabinet colleague, Arnaud Montebourg, pointedly noted Valls himself was born to Spanish immigrants and the remarks "deserve to be corrected".
"I have nothing to correct about what I said," Valls hit back. "My remarks only come as a shock to those who don't know what this issue is about."
In the latest episode, Valls ordered the repatriation of a 15-year-old Roma girl, Leonarda Dibrana, her parents and five siblings to Kosovo. She was detained by police during a school trip, a move that sparked an outcry by teachers' unions, protests by high-school students, the far left and the Greens.
It then emerged that all of the family except the father had been born in Italy and had Italian identity documents, but had falsely claimed asylum in France as persecuted Kosovars, obtaining housing, education, health care and other benefits. They had exhausted the asylum process and their deportation had twice been postponed, forcing police to act while the girl was on a school outing.
Under pressure from traditional wellsprings of Socialist support, and personally lobbied by Socialist Party chief Harlem Desir, Hollande issued a judgment-of-Solomon edict: the girl could return to France, but not her family.
No one was satisfied by this: on the left, critics said that by returning without her family Leonarda would be made "an instant orphan"; the right said Hollande had undermined his Interior Minister, eroded the rule of law and promoted illegal immigration.
Unabashed by the fuss, Valls said Hollande had made an "act of generosity" towards the girl but declared truculently her family "won't be coming back".
This week Valls announced plans to fast-track the processing of asylum applications in France, reducing them from a typical 16 months to six to nine months.
The affair has been a blessing to Valls' standing nationwide but also exposed a love-hate relationship with his own party, which may dislike his style but understands his popularity could be the key to staying in power when municipal elections are held next year.
"We live at a time when public opinion is completely in favour of Republican order and discipline," said Roland Cayrol of the Cevipof thinktank in Paris.
Outside France, some observers say Valls' approach is not very competent - migrants deported to Bulgaria and Romania can return to France under European Union freedom-of-movement rules - and has the taint of opportunism.
"There are elections in the air in France," European Commissioner Viviane Reding said.
"Every time they don't want to talk about important things like budget and debt, the Roma issue gets brought up."