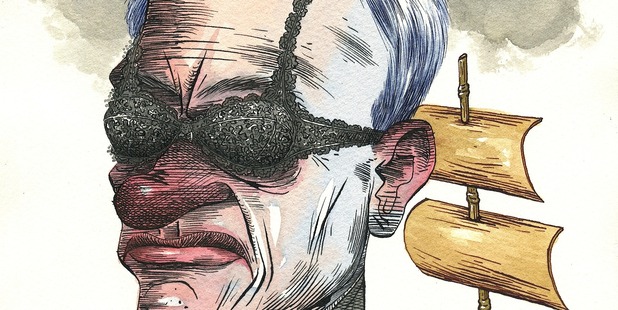 Last week was my birthday and, like most birthdays north of 35, something of a non-event.
Among my modest haul, one present stood out: a stamp for office use, bearing the letters "WTF" (for "what the you-know-what"). On first sighting, it was immediately obvious that the stamp would have a thousand uses. Electricity bills, which seem to grow by $100 a month, would qualify for the stamp treatment. The kids' reports, which require a post-doctoral degree in algebra to understand, would also be eligible. Auckland real-estate magazine? The stamp. Fifty Shades of Grey? Stamp, stamp, stamp.
Then, when the Len Brown scandal broke, my stamp was constantly in mind as, like many others, I struggled to register the unfolding, hackneyed soap opera, complete with young Asian temptress, middle-aged man in mid-life crisis mode, unconvincing Italian plotters, seedy journos and carpark assignations.
Jackie Collins herself couldn't have written it better and, since writing this, the plot may have thickened even further.
But the fact remains that on Monday, Len Brown decided to forgo a visit to a local primary school in the wake of the scandal, feeling that perhaps it wasn't the best venue at which to confront the inevitable media scrum.
I think this was an opportunity lost on all counts.
For Len Brown, the visit was a chance to show that he was getting on with the job, taking it on the chin, doing what he says he can keep on doing. The media would have been forced to veer away from the precise details of what happened in the mayoral chair and all the other grubby ephemera we love to wallow in, out of - probably insincere - deference to the children. I'm sure a group of steely-eyed female primary teachers would have kept things on the straight and narrow.
The children missed the chance to understand that the media are charged with holding publicly elected officials to account, and that the mayor was in the hot seat because he did something that some people didn't like and they want answers from him about what he is going to do next. They may have even seen an adult apologise for bad behaviour, which is no bad thing for children to witness.
For goodness sake, it's not as if every child attending Three Kings Primary School needed to know the detailed contents of the affidavit signed by Bevan Chuang. Even if it were read to them over a megaphone, it's unlikely they would develop post-traumatic stress disorder.
I have explained the facts of life to my own primary-aged children several times, and they still cling stubbornly to their own biologically impossible version of conception, and are convinced that mummy delivers the resulting baby by vomiting it up. Children of that age couldn't care less about burlesque dancers, goings-on in the Ngati Whatua room or cheap lingerie, despite adult neuroses.
But what a great age to introduce them to civics, and what better way than by having a repentant mayor visit your school with media scrum in tow. To talk about what kinds of things a mayor should do, whether this mayor is doing them for Auckland, what kind of city we want to leave our kids, and how that will be achieved. We can also wonder WTF the current maelstrom has to do with any of the above.