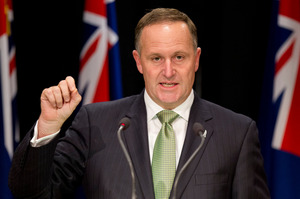 Every year about this time, we have become accustomed to a tiresome refrain. A prime minister, knowing that parliamentarians' annual pay rise will soon be announced, chastises the Remuneration Authority for being too generous.
This week, John Key was at it. "I'm not in favour of big pay increases for MPs," he said. "If it was my vote, it would be no pay increases, but I don't get that vote." The Prime Minister's defensiveness sprang from the fact that the independent authority had consulted him on the proposed increase and hinted it was lining up a good pay rise. At a time when the tightening of belts remains the norm for the vast majority of people, this is a sure recipe for another outburst of resentment.
But that sentiment is based on far more than parliamentarians' pay increases. If the authority were to raise their salaries by 2.1 per cent, there would be no real reason to quibble. That was the average hourly earnings increase over the past year, as measured by the labour market statistics for the June quarter.
But it is only one of the factors the authority takes into account when setting the salary.
Notably, its 1.9 per cent pay rise last year was not as generous as that received by the many who benefited from an average annual increase of 2.9 per cent. This was, the authority said, because it was obliged to observe prevailing adverse economic conditions.
In theory, that should take some of the heat off MPs, even if some people will always maintain that backbenchers are not good value for their annual $144,600 salaries. Furthermore, few would want them to have the right to set their own salaries whatever the belief of Mr Key that only a small, if not zero, pay rise should apply at this time. Actions speak louder than words, and MPs have indicated clearly they are not ready to address some of the aspects of special treatment that have diminished public respect.
Perhaps most seriously, there is still simmering resentment over the use of travel perks, especially in a series of scandals involving the use of international entitlements for near-free holiday travel for senior MPs and their wives or partners. Mr Key acknowledged this and, in the Members of Parliament (Remuneration and Services) Bill, proposed that most travel and accommodation entitlements for MPs would be set by the Remuneration Authority, rather than Parliament's Speaker. This was in line with a recommendation from the Law Commission.
Almost two years later, however, the government administration committee has recommended that the travel perks should remain with the Speaker. The only concession was that the authority should decide on travel expenses for MPs' families. Seeking to justify this lamentable about-turn, the committee referred to the principle of Parliament's privilege to control its operations.
Yet that control has, quite correctly, been relinquished in the matter of salary increases. Additionally, the committee was quite willing to transfer the setting of accommodation allowances from the Speaker to the authority.
It is difficult not to conclude that MPs are prepared to give some ground but not for perks they especially value. Mr Key has noted the decision to keep MPs' travel within the hands of the Speaker was unanimously agreed on by parties in Parliament. All that indicates is a universal desire not to see a further diminution of the entitlement. Ignored is the more important issue of regaining public respect by removing the causes of resentment.
Parliamentarians would face less wrath over salary increases if they demonstrated a genuine desire to rein in other ways they spend public money on themselves.