Kiwis' feelgood stories, filmed in no-nonsense or charming style, strike greater chord than talent contestants.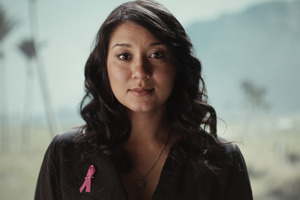 I've been off travelling, weathering several weeks on end without casting more than a passing eye at television, so I returned to it with a happy and open heart, ready for almost anything.
Though perhaps not quite ready for the rebirth of what might be described as Golden Kiwi TV. You know, feelgood shows about us - a "great stories of real New Zealanders" sort of thing.
Spookily, that's exactly what a voice said right at the top of the first episode of a new local series called, with a certain lack of pizzaz, NZ Story on TV One, Saturday at 7pm.
Heartwarming with a lot of unseemly pressure on the tear ducts, that first story in the series was about ex-TV presenter Helena McAlpine, irrepressibly brave facing life - and the end of it - in the grip of terminal cancer.
It was delivered in a laudably direct style and McAlpine's openness and comfort with the camera combined to make strong and straight TV, though a bit of a stretch at half an hour and I feel slightly guilty even saying that, given the subject.
Following straight after NZ Story on TV One there was another heartwarming hour of stuff about us, except this one, called, equally un-zippily, This Town, was a big cuddly colour piece.
Managing to be both uncommonly beautiful and charmingly folksy, Saturday's episode offered a ramble through a colourful collection of some of the towns of Central Otago, small and smaller.
Made by the people who made North and South with Marcus Lush and Intrepid Journeys with everyone else, This Town turned its twinkly eye on an interesting local from each locality.
A duck shooter in Becks, feeling emotional with his mates in the moment, said, "It's not about ducks."
In Roxburgh, the wife of the man who built his own power station said, "There's doers and there's not doers" and she seemed to know about that sort of thing.
In a Stephen King moment, in sleepy Alexandra two giggling young sisters told of the day the pie cart unexpectedly exploded, never to rise again.
And there was an unsettling encounter with a Hobbitish chap in Cambrians, enthusiastically planting the wrong sorts of trees all over the landscape and hugging everyone and everything in sight.
I'll be back for more of This Town - not because it's doing anything new, but because of the sweet off-centre way it does it.
Let's hope they don't run out of towns too soon.
On Sunday (TV One, 7.30pm), NZ's Got Talent was showing little signs of running out of fuel for its foolish fire, though it is down to a mere 30 finalists.
Watching Sunday's line-up, I wasn't sorry for missing what had gone before in the preceding weeks. On Sunday, the judges were struggling to find superlatives.
Rachel Hunter settled for telling a tiny terrible dancer, "You're so cute", though he clearly wasn't. Just deluded.
The presence of choreographer and former Michael Jackson dancer Cris Judd has had the unfortunate effect of bringing waves of dancers on to the all-talent talent show.
Which made it so difficult to choose between the big lady singing Wind Beneath My Wings and the goofy young guys doing the unicycle act that I didn't.