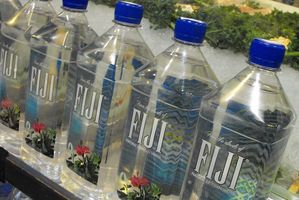 Spot the difference between these five upmarket brands of bottled water: Antipodes, Evian, Fiji, Perrier, San Pellegrino. Aside from the fact they've all been fashionable at various times, one of these waters is not like the other; one of these waters just doesn't belong.
Of course, it's Fiji. While the other four come from developed countries - namely, New Zealand, France and Italy - Fiji water hails from ... well, you can probably guess. I've always found it strange that while visitors are well advised to not even brush their teeth with the tap water in Fiji they can guzzle the bottled Fiji water without a care.
World Nomads reports: "There are two types of Fiji water; ... the ubiquitous bottled goodness and ... the stuff that comes out of the nation's taps, sometimes with shells, frogs and invisible typhoid and gastroenteritis bacteria ... many Fijians have to make do with cracked, broken and contaminated water pipes and a supply which is often polluted after heavy rains."
The Fiji branded water is coveted by the rich and famous. In 2009 Mother Jones reported: "Obama sips it. Paris Hilton loves it. Mary J. Blige won't sing without it. How did a plastic water bottle, imported from a military dictatorship thousands of miles away, become the epitome of cool?"
Also, "Fiji is now America's leading imported water, beating out Evian." And, make no mistake: Fiji water remains smoking hot. I've not encountered it in New Zealand but almost every New York restaurant I visited in June listed it as its still water of choice.
The brand's website says: "Slowly filtered by volcanic rock, it gathers minerals and electrolytes that create Fiji's soft smooth taste. Collecting in a natural artesian aquifer, protected and preserved from external elements until you unscrew the cap."
But unlike other nations that export their water, Fiji is a developing country and the reality of life there isn't consistent with all that pristine imagery. The Mother Jones article says: "Nowhere in Fiji Water's glossy marketing materials will you find reference to the typhoid outbreaks that plague Fijians because of the island's faulty water supplies." It also paints a picture of corporate greed (noting the "entities that Fiji water ... set up in tax havens like the Cayman Islands and Luxembourg") and hypocrisy (as evidenced by "the fact that its signature bottle is made from Chinese plastic in a diesel-fueled plant and hauled thousands of miles to its ecoconscious consumers").
Fiji Water: So cool, so fresh, so bad for the environment? took up the theme. While the company's US-based owners sell "Fiji's best, cleanest water at a huge profit" to well-heeled customers overseas "the people of Fiji suffer under terrible water conditions that have led to outbreaks of typhoid and parasitic infections".
It was reported in Fiji Water accused of environmentally misleading claims: "Fiji Water enjoys zero tax and when the government tried to impose one ... it [the company] threatened to shut down its factories and move them abroad." It's surely the final insult to discover this company pays no tax in a nation which lacks the infrastructure to supply its own people with safe drinking water.
Bottled water has long been frowned upon. Symbolic of all that is wasteful and shallow in our consumer-driven culture, it's unnecessary, expensive - and its packaging is bad for the environment. Yet it's convenient too if you're out and about or on the road. But the question remains: is some bottled water worse than others? Is Fiji water so tainted with moral, political and economic issues that it leaves a bad taste in the mouth of whoever drinks it?
What's your view on Fiji water? Is it exploiting a fragile nation? Or is it providing jobs and a boost to the local economy?