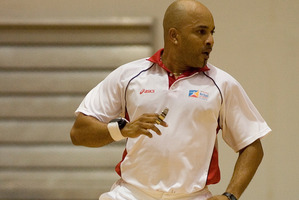 It's the argument that refuses to die down. The debate over the level of physicality in netball is once again a big talking point in the Constellation Cup after a series of brutal clashes between New Zealand and Australia.
Having read some of the comments from the players during the series, I watched all the games afresh. There did not appear to be anything more in these tests than you'd see at ANZ Championship level and yet the talk off the court seemed dominated by claims of roughhouse tactics.
To me, the problem lay with the officials. The umpires throughout the series were woefully out of their depth. Their inexperience meant they were often badly positioned to judge contact in the goal circle, leading to some cynical defensive work going unpenalised and badly frayed tempers in the New Zealand attack end.
That is not to excuse the reactions of some players. The Ferns' behaviour bordered on petulant at times. But you can see where their frustrations stemmed from, particularly when they copped some mystifying offensive penalties (as did Australia) while obvious illegal defensive challenges went unpunished.
In a sport that shies away from controversy it's rare to see such bitter outbursts, but these will continue as long as the International Netball Federation sticks with the system of assigning umpires. The INF has a pool of 30 umpires from which it chooses for test matches. Of those 30, 18 are from New Zealand or Australia. With the current system of using neutral umpires for test matches, that leaves just 12 who can officiate in transtasman tests. Compounding the problem was that some of the higher-ranked English umpires were unavailable to take part in the Constellation Cup matches for various reasons.
And so the top two nations in the world were left to scrap it out ineffectively policed by umpires who struggled to keep up with the pace, and subtleties of the play.
I feel uneasy about being critical of the umpiring. They have a tough job made even tougher by the scrutiny of fans and media. And no, before the emails flood in - I wouldn't be brave enough to pick up the whistle myself. But what occurred over the course of the Constellation Cup series was at times farcical. The umpires are being left behind as the game speeds towards professionalism and the INF needs to urgently address the development pathways for international umpires.