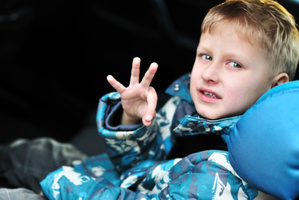 I was driving to the gym when an ad came on the radio. A friendly man told me that from November 1, parents must have all children under 7 secured in an approved restraint.
I sniggered to myself. After a couple of weeks of school holiday, frazzled parents would probably be happy to secure their children in a restraint 24 hours a day, not just while they were in the car.
But the friendly man's next piece of advice almost had me driving off the road. Some children, he warned, were still shy of the 148cm mark they need to hit before they can safely use seatbelts.
"Safer to wait till we're 148" a group of children chirped at the end of the ad.
I madly tried to do conversions in my head as I hunted for a park at Britomart. I've never made the adjustment to metrics when it comes to height, measurements and weight.
Distances, I'm fine with. But body stuff, I stick with the old imperial measures.
What on earth was five foot, one and a half inches in centimetres? From memory, it was dangerously close to 148. Would I be required to be in a booster seat myself?
Oh, the ignominy. The tantrum a 7-year-old will undoubtedly throw when they find they have to be in the same baby seat as their 3-year-old brother would be nothing compared to the tanty I would put on if I had to be secured in an approved restraint when I got behind the wheel of my car.
Mercifully, the gym has all the appropriate measuring equipment so I popped myself under the height ruler at the end of the session - and five foot one and a half is 155cm.
No need to worry. I clear the restraint height by a whopping 8cm. But I don't envy parents who have to reintroduce child restraints to big kids.
The drive to the beach this summer has suddenly become a whole lot more fraught.