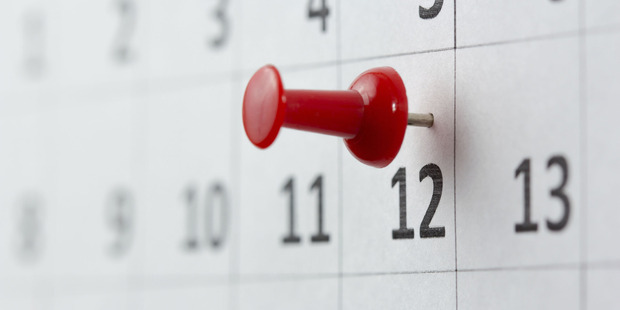 In many homes, one of the most hectic areas is keeping track of the schedules and various commitments for the entire family. Appointments. Travel. Sports. Meetings. Things to do. The problem is - you, your partner, your older kids keep individual diaries. On phones. On laptops. On the office Outlook system, in which access is limited.
So to help co-ordinate the 'everyone, everything' in one place, do the FREASY. Free and easy.
Why not use a free online calendar such as Google Calendar or the Outlook.com Calendar? All everyone needs for the former is a Google account and the latter a Microsoft Live Account (Outlook.com is the new name for Hotmail by the way). Setting up an account is as easy as a name and password.
You can be clever and create a 'family account'. Your first step is to create a family gmail address (surname@gmail.com). Then go to www.google.com/calendar and create a new calendar. The whole family can use the email address to log in and add their information.
Alternatively each person can create their own account and calendar. Agree on who's will be the 'master' and simply have all the calendars set to share (it's in settings/calendars/Share). On the calendar itself, lower left corner there's a drop down box by other calendars where you can add other one's to yours. The master will then show the combined activity of the whole family (you can select different colors for each person). If you want to notify - simply create a meeting - and everyone with be emailed.
A few family ideas:
• Highlight school holidays for the entire year so you can see in a snap when something might conflict
• Add committee meetings, birthday parties, school meetings, etc.
• School sporting events where a driver is needed
• Days out of town
• Birthdays of friends and relatives
• Important work dates
• Vacation days
• Add on a To-Do list
Extending this idea for business:
• Sales teams
• Appointment based business such as salons, clinics, general medical, home services, mechanical? Set calendar to public and give address link to customers - they can set appointments with you online.
• Employees leave scheduling - so they can see when they can take a non-conflicting time off
• Schools, day care - events, fundraising, holidays, teacher only days.....
The great 1-2-3 about this idea is:
1. It's free and easy
2. Almost every person has access to the internet
3.It saves time (and sometimes, conflict!!!)
What do you think? How are you using online calendars?
Written by Debbie Mayo-Smith, One of New Zealand's most in-demand speakers, trainers and bestselling authors. Debbie works with companies that want more effective staff. For more tips and business ideas sign up for her free monthly newsletter.