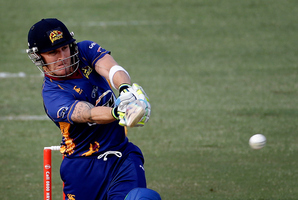 Ripped off. That's how I feel about the Otago Volts missing the semifinals of the Indian Champions League.
I know it's the 'Indian' Champions League and three Indian IPL teams in the finals will keep the politicians happy, but it feels wrong.
This Volts team are one of the finest T20 sides in world cricket, yet with one loss they tumble out of the tournament.
The Volts are a great little team to be proud of. They're a bit of a ragtag bunch of misfits. A bit like in my days there, except this Otago team wins. It's a shame they aren't Auckland and then we could call them the A-team. Brendon McCullum feels a bit like John 'Hannibal' Smith too. There are not many fashionable cricketers in this team yet they pull together well, but one loss in 15 games. It wasn't a bad loss either, and out they go. Okay, admittedly it was because of the brilliance of Mumbai's Dwayne Smith and Rohit Sharma - and the incompetence of Perth - but it hardly feels fair.
Rules are rules, though. Rain and no-results can affect a tournament adversely as in this case, but it's just a shame the Volts won't get their shot at that title and the many benefits accompanying it. Hopefully some individuals are rewarded by way of IPL deals, but there was more than that at stake.
This Otago team were doing some real good for New Zealand Cricket. They would have made a few of world cricket's power-barons take note with the way they cruised through qualifying and looked formidable in the real deal. However, one washout and the inevitable loss stopped them progressing to the game that earn the real prizes ... and I don't just mean great cash injections and free cars.
A finals appearance may have guaranteed the New Zealand entrant automatic qualification to the tournament proper in future, which is important to guarantee bigger pay days and more respect . I would have seen more benefit in Black Caps Brendon McCullum, Hamish Rutherford and Neil Wagner remaining in India than playing the warm-up games in Bangladesh before the tests. That is a big concession on my behalf, but a Champions League victory would have gained more than a test win against Bangladesh.
On this occasion it does not cut the mustard to say its 'only T20' because the real people of power in world cricket value their cash cow highly.