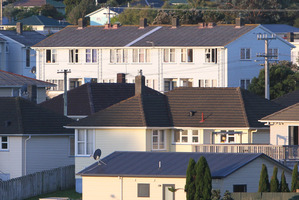 When Housing NZ told Bella Bowden it wanted to put the state house she called home on the market, it started a chain of events that has now reached the courts.
The 52-year-old supermarket worker said she, with the support of whanau, could put together the $1 million required to buy the Mission Bay property where she had lived for 11 years.
Eyebrows were raised and, as the Herald on Sunday revealed, Housing NZ launched an inquiry. Now, prosecutors allege she had a partner living with her and the two earned more than she declared. She should have been paying a market rent on the million-dollar house, the agency says, as it seeks $39,000 in rent.
Bowden denies any wrongdoing, but she was evicted. Housing NZ acted decisively, undeterred by those who publicly accused the agency of a witch-hunt.
If only Housing NZ were able to act so decisively in up to 4000 cases where tenants who could afford a private rental have ensconced themselves in state houses for years, while others in greater need remain on waiting lists.
More typically, the agency has taken a softly-softly approach. This has been dictated by a law that prohibits it from selling property out from under its tenants (Housing NZ was technically in the wrong when it told Bowden it wanted to sell her home) and the likelihood that any clashes will be portrayed as a battle between an uncaring bureaucracy and individuals down on their luck.
As much as this policy has smoothed waters, it also means state housing is not available to those who need it most. Tenants whose financial situations have improved, and who could easily move to private housing, have not done so. Nor have parents whose children have left home, leaving them in a family house far too big for them. About 22,000 tenants, nearly a third of the Housing NZ portfolio, have been in the same state house for at least a decade.
The answer has long been apparent. State-house tenants need to be reviewed regularly to ensure their houses fit their circumstances. The Government took a first tentative step in that direction in 2011 when it introduced reviewable tenancies for new tenants. Now, with the Social Housing Reform Bill before Parliament, it has summoned the courage to extend reviews to all Housing NZ tenants who receive an income-related rent.
These reviews will end the idea that a state house is for life. Too many tenants have come to regard their state house as a permanent right. One moved on from a high-value Glen Innes property this year spoke tellingly of "my house". Tenants should never be in doubt that their house is a transitory arrangement. They must move on when their need no longer exists or if the state, as landlord, needs to put the house to better use.
The Government knows it risks being portrayed as cold-hearted.
Labour has already suggested the system will create needless stress, anxiety and and suffering, especially for older people. It says safe and secure homes should be provided to vulnerable tenants "for as long as they need them".
No one is proposing, of course, to eject vulnerable tenants. No one suggests removing the safety net provided for those most in need, as long as they need it. But it is clear that Housing NZ has had one arm tied behind its back as it has attempted to match state houses with those most in need. That cannot be allowed to continue.