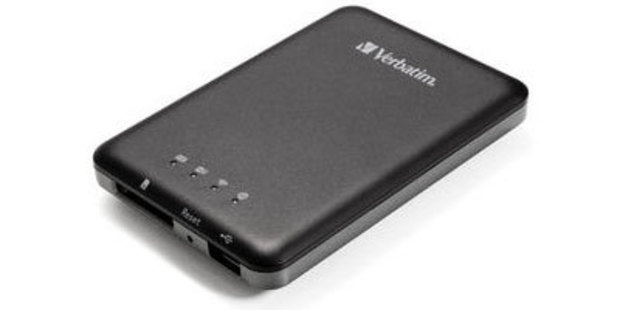 Every once and a while an idea comes along that just makes several metric tonnes of sense. Take Verbatim's MediaShare Wireless, a portable widget that allow users to hook up to five Wi-Fi enabled tablets and smartphones, to access data stored on connected SD cards or USB hard drives.
Look and Feel
At roughly the size of a deck of playing cards, there isn't a lot to see with the MediaShare Wireless. It isn't terribly big but is thankfully highly portable thanks its built-in battery. This makes it ideal for long road trips with restless kids who can access movies and music via smartphones and tablets using free iOS and Android apps.
Features
The apps are downloadable from the iOS app store and Google Play, and allow users to view and manage content. Files can be copied between devices and the MediaShare Wireless (which makes it insanely handy for travellers sorting holiday photos while on a trip). Another nifty feature is its ability to act as a bridge to other Wi-Fi networks which opens up the potential for Internet connectivity while files are streamed.
In use
In use the MediaShare was pretty unobtrusive and when paired with the iOS app worked like a charm. Weighing in at just 127g it had the heft of a smartphone, meaning that the portable hard drive connected up to the MediaShare was more cumbersome than the actual device itself (in environments where some rough and tumble is expected, SD cards can be used instead). Its rechargeable 3,000mAh Li-ion battery also impressed, delivering just under 9 hours of continuous media streaming. Priced at a pocket pleasing $89.99, the Verbatim MediaShare Wireless is not only ideal for travellers but also is the answer to every parent who's faced the dreaded "are we there yet?" question during a long road trip.