Ray Donovan's debut episode is awash with cliches but some excellent casting promises rewarding viewing.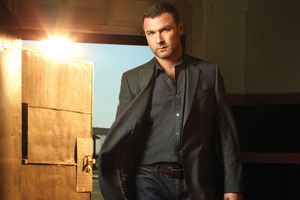 A black basketball star wakes to find a dead white girl in his hotel bed, blood streaming from her mouth. A nasty, married, dwarfish Hollywood executive wants the young singer he's bedding followed. A pervert is stalking the same young singer.
Who ya gonna call?
In Ray Donovan (8.30pm, Sundays, SoHo; encore Wednesdays 7.30pm), the not-quite-ghostbuster to summon is this new show's eponymous fixer, a bad man who makes bad things go away.
Played with industrial grade intensity by Liev Schreiber, an actor who specialises in appearing fierce and troubled, Ray is a brooding, damaged thug as well as a loving family man, a South Boston native who has washed up in the sewage pond of modern Los Angeles along with his extended family.
And what a family. Ray's brother Terry (played by the wonderful British actor Eddie Marsan) is a punch-drunk ex-boxer with Parkinson's disease who along with Ray's other brother Bunchy (excellent character actor Dash Mihok) runs a rundown boxing gym.
Bunchy is a drunk who has just been paid out nearly a million and half bucks for childhood sexual abuse at the hands of a Catholic priest.
There is Ray's wife Abby, a whining harpy who has comes from nothing but wants the good life, like moving to a better suburb. "This is the fricking Jersey Shore of L.A.," she moans about their present neighbourhood.
And then there is Mickey, this ugly brood's patriarch and Ray's father and enemy. As the premiere episode opened, Mickey (played with gusto by that old scenery chewer Jon Voight) is out early from prison after 20 years.
"It's a different world out there Mickey," a jailer warns him on the way out. Not for Mickey; he immediately kills a priest, finds a hooker and smokes some weed.
He's like some cartoon bad guy. Which is why I'm not quite sure what to make of Ray Donovan. The opening episode was disjointed, as opening episodes often are, as the writers try to hook us in, explain their characters and fill out the back story of the large extended cast which includes the great Elliott Gould as Ezra, Ray's mentor.
This show is at once awash with the cable TV cliches of our time - the violent anti-hero with a heart, the labyrinthian plotting, the cynicism about modern life - but there is much to whet the appetite, not least the idea of watching Schreiber and Voight going at it each week as the father and son from hell.
Ray is, as hoods always have to be in the post-Sopranos world, a man riven by wildly contradictory emotions and drives. He wants to protect his wife and children from the world in general and Mickey in particular. But he is also self-destructive, mean and prey to his impulses. The young singer Ashley, who he is supposed to spy on but also decides to save from a stalker, is both the object of his lust and of his need to save weak women (it is hinted that this springs from a sister who killed herself while high on drugs).
In the end the better Ray wins out and he saves young Ashley: "Don't worry," Ray mutters to her, "you're in the solution now."
"I remember that," she says, recalling some other time he saved her. "I love it! What does it mean?"
Who knows? I guess she and we will have to keep watching to find out.