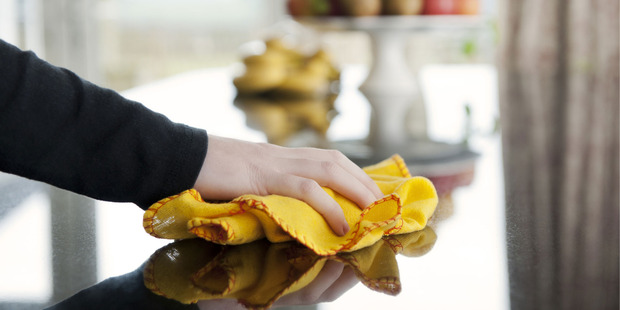 If you insist upon keeping an 'eat off the floor' sparkling clean, it can be costing your family big time in three ways.
Please let me explain first that with six children, one of our early parenting decisions was that it was more important for us to raise a relaxed and happy tribe, than worry about maintaining a fancy' don't touch' home.
Over the years the kids were allowed to ride their tricycles and skateboards up and down the hallways (it's wide). If a chair fell back into the wall and one or the other got nicked, Steve was wonderful and just fixed it instead of making huge dramas. Toys weren't always 100 per cent put away. Naturally this eliminated a lot of potential stress for them and for us.
You may think this is not the way you want to live, but first let's look at two important considerations.
First, stress. The extra amount placed on yourself, your partner and the children.
With so many stress points today - money, work, time, things that are important - does it matter if something is dusty? What would really happen in the scheme of life if cleaning was spread out a bit more? Weeding the garden done biweekly instead of weekly?
But something more important, far more important is the opportunity cost.
Most people don't recognise that by using your time in one area, you are stealing it away from another. So what if cleaning time can be allocated to either someone else, or lessened? What could you do with that time if let's say, you owned a home business or are a sales person?
Let's look at the numbers. What if you could hire someone to assist with household (or taking the thought further, mundane admin tasks of the business) for let's say three hours a week, for 45 working weeks a year. Let's say you pay a university student $16 an hour. That equates to $2160 per year.
Three hours over 45 weeks totals 135 hours. If you could use this time to instead build more sales or increase your business income - wouldn't it be worth it?
Let us say you are a mortgage broker. A coach, personal trainer or have a book of customers for a product or service.
Next let us say that each new client you add on is valued at $500 to you. The question you need to answer is this.
Do I have the confidence in myself that I can take 135 hours, i.e. three hours a week, and get at least 5 new sales. That is only one every two months!!!! If the answer is yes, it's a no brainer. You've won the cleaning/admin war and have come out $340 ahead. $2500 less $2160. What if you make more than five? Or if a sale is worth more than $500?
Please share your delegation strategies with us.
Written by Debbie Mayo-Smith, One of New Zealand's most in-demand speakers, trainers and bestselling authors. Debbie works with companies that want more effective staff. For more tips and business ideas sign up for her free monthly newsletter.