NZ risks handing too much power to foreign companies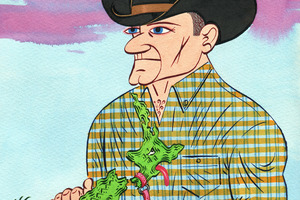 A trade agreement which New Zealand is champing at the bit to sign promises billions of dollars in extra export earnings and thousands of new jobs, according to the minister in charge, Tim Groser.
Groser seems almost overcome with excitement at the thought of all that extra dosh and employment. As it is his job to facilitate such deals, one can excuse his fervour for the TPP agreement - the Trans Pacific Partnership - which he passionately hopes will be signed off, in some form, this year.
He is quick to rebut the naysayers. Essentially, his argument is that their worst-case scenarios for the things that we may have to forgo in order to be part of this wondrous new trade alliance - dismantling Pharmac, say, or breaking up Fonterra in the interests of a "level playing field" - won't happen.
He reckons that with a few tweaks to Pharmac here, an alteration to parallel importing there, some redistribution of council contracts over there, we'll be able to maintain all the meagre benefits the public of New Zealand enjoy without upsetting our very powerful trading partners - the US, Canada and Japan among them.
Trust our negotiators, they know what they are doing, he says cheerfully.
I'm sure most New Zealanders do trust our negotiators to do the best they can. That said, many of us can't help but imagine them, metaphorically, pants down and bent over when more powerful trading partners meet them in the negotiating room.
Stoking the scepticism are some of the things that will be in the TPP, such as "investor-state dispute settlement" (ISDS) clauses. Such clauses allow overseas investors to sue a government when anything upsets the profitability of their investments in that country.
Under such clauses in other trade agreements, three corporations have sued the Mexican Government after it put a tax on high-fructose corn syrup.
Australia is fighting cigarette-maker Phillip Morris in an international tribunal, because, when its government introduced plain packaging for cigarettes, it was considered to have jeopardised the corporation's profitability and so contravened an ISDS clause in a 1993 treaty. (Australians say they won't agree to ISDS clauses in future, including in the TPP; New Zealand has asked for no such exemption).
Ecuador has been ordered to pay Occidental Petroleum US$1.77 billion after it terminated the company's oil contract - even though the original breach of contract was Occidental's.
There is no shortage of such examples and we can only hope New Zealand is not added to the list if and when our future governments find themselves at the mercy of the legal departments of multinationals.
Fair enough that the current Government, which has a popular mandate, is seeking ways to make New Zealand richer and is prepared to allow business an unparalleled ability to influence the way our laws are shaped and public money used to further that aim. They don't make any secret of it and continue to receive support.
But New Zealanders who would like to ensure that our politicians retain the final say over how our assets are used and our laws made, may soon find themselves on the wrong side of history.