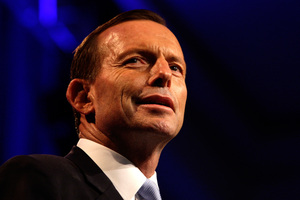 Coming from a man who had just won the prime ministership - a prize he had long coveted, and which narrowly eluded him three years ago - Tony Abbott's victory speech was almost downbeat.
He pledged "a government that says what it means and means what it says ... a government of no surprises and no excuses ... a government that understands the limits of power as well as its potential".
Not exactly stirring stuff. But it was in keeping with the limited vision and simple slogans - stop the boats, end the waste, scrap the carbon tax - on which the Coalition campaigned. It matched the aspirations of voters, who had sought not radical change but stability, not extravagant promises but clear, achievable goals, and, above all, a calm, reassuring hand on the nation's tiller.
It's a great paradox: at a time when the Australian economy is the envy of the outside world, with an unemployment rate of under 6 per cent, respectable growth and still untapped mineral resources, its citizens feel fundamentally insecure.
They are worried about their jobs, their retirement income and the cost of living. They are worried, many of them, about asylum-seekers, who they see - however irrationally - as competing for work and public housing while exacerbating urban congestion. They are worried about soaring house prices, fearing their children will never be able to afford homes.
Against this background, the undoubted achievements of Kevin Rudd and Julia Gillard - including nearly a million new jobs, a disability insurance scheme and fairer funding for public schools - failed to resonate.
Instead, voters saw only internal squabbles. As one woman told me during the election campaign: "With the Coalition, at least you know who's running the country when you wake up in the morning."
The almost perpetual mutterings about Gillard's leadership, the challenges and non-challenges,fatally undermined her government. Rudd's return may have lifted Labor's vote but he was still tainted goods. Australians wanted "a government that is competent, that is trustworthy, and which purposefully and steadfastly and methodically sets about delivering on our commitments", as Abbott put it. No more rollercoaster rides - instead, a smooth and predictable journey.
Abbott will be different from Gillard, who promised not to introduce a carbon tax, then introduced one, as part of what many saw as an unholy deal with the Greens. He'll stick to his word and get rid of the tax. He'll cut government debt, even if it means slashing billions from foreign aid. It will be interesting to see if he manages to stop the boats, given that he has no control over the "push factors" in source countries.
He will be different, too, from the mercurial Rudd, who kept public servants guessing with his constant policy rethinks. While progressive-minded Australians fear that Abbott will unveil all manner of socially reactionary policies, the concern of some of his colleagues is that he will be "a do-nothing PM", as the political commentator Peter van Onselen has predicted.
He will not have an easy ride, despite his sizeable majority. He may face a hostile Senate and Labor will be looking to rejuvenate itself probably under the articulate and presentable Bill Shorten. And Malcolm Turnbull - the man Abbott deposed as Liberal leader in 2009 - still nurses ambitions of his own.
New key players
Prime Minister Tony Abbott
56, born in London, migrated with family under assisted scheme, 1960. Rhodes Scholar, Master of Arts at Oxford, formerly a journalist, Catholic seminarian, political adviser.
Won seat of Warringah, Sydney, in 1994. Health Minister in John Howard's Coalition Government. Shadow Families, Community Services and Indigenous Affairs Minister. Liberal leader from 2009 after ousting Malcolm Turnbull.
Deputy PM Warren Truss
64, born in Kingaroy, Queensland, a farmer. Won Wide Bay for junior Coalition partner the National Party in 1990. Successively Minister for Community Services, Customs, Agriculture and Fisheries and Transport in Howard Government. Shadow Minister for Trade, Transport and Regional Development, later Infrastructure and Transport. Led National from 2007.
Treasurer Joe Hockey
48, born in Sydney to Armenian-Palestinian father and Australian mother. Law, Arts degrees from Sydney University, financial lawyer, later NSW Premier's director of policy. Won North Sydney 1996, successively Minister in Howard Government for Small Business and Tourism, Human Services and Employment and Workplace Relations. Shadow Minister for Health and Ageing, and Finance, Competition Policy and Deregulation. Shadow Treasurer.