Despite suffering some big knocks, our yachtsmen have shown they have the character and ambition to keep fighting back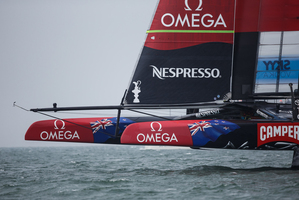 Team New Zealand is a remarkable organisation. It ought to have disappeared, quietly, years ago. First, after the wholesale walkout of its brains trust after the triumphant 2000 home defence of the America's Cup and the subsequent death of its inspiration, Sir Peter Blake.
Then after regathering itself but suffering humiliation in 2003 when it lost the Cup 5-0 to Alinghi on the Hauraki Gulf. Then after rebuilding again but coming up short in the brave, brilliant but excruciating loss of the Cup match against the slightly superior Swiss in Valencia.
Each time, a less spirited organisation could have folded. Each time, the prospects of carrying on, let alone having a real chance of regaining the Cup, seemed to become more remote in the face of billionaire opponents, rising costs, new rules and now a whole new form of sailing in high-tech catamarans. Yet each time, Team NZ had enough character and ambition to rise to the occasion.
And here we are. Back on the start line of the America's Cup in San Francisco, against Larry Ellison's Oracle.
One of Team NZ's ongoing successes has been to convince successive governments to maintain public funding of their campaigns; around $35 million for the current $100 million-plus effort. They have found and co-opted into their family of funders well-heeled multinationals and individuals from home and abroad. For a team without victory for 13 years in the event that is its raison d'etre, it has managed to hold long-term confidence from those who know it best.
The Emirates Team New Zealand we have today, and the sport they compete in, are vastly different even from Valencia. The challenge in Spain had about 30 sailors and a dozen or so technical experts. This time it is the reverse - the sailing team numbers 15 and the design and development group around 30. That is what it takes to run the machine that is the catamaran named Aotearoa.
Despite the pre-match penalties for cheating that require Oracle to start with minus two points in the contest to be first to nine wins, Team NZ are not overconfident. They, and we, have been here before: bold holders of the Louis Vuitton Cup only to fail at the last hurdle. In Sir Russell Coutts, Oracle have a leader even harder-edged, if that is possible, than Team NZ's Grant Dalton.
The American team are likely to stop at nothing to stop the challengers. Oracle has had two boats, two whole crews and buckets of money to practise with compared with our one boat, one crew and handiness with a bucket to bail ourselves out of every challenge.
If Team NZ win, in all likelihood Auckland and New Zealand will benefit greatly from an America's Cup event in Auckland and the regeneration, development and international attention it will inspire. If they lose, it is hard to contemplate another Team NZ run at the Cup.
The physical and emotional toll of the past 13 years on everyone from Dean Barker to Dalton will be matched by the fiscal impatience of the New Zealand Government. The Prime Minister has already made that clear and, finally, he might be right.
But there is an unkillable will to this outfit that means no one should bet against Team NZ either winning the thing now, or getting back up and trying again.