Suppress the inner bitch and what's left? Miss Marple, damson gin, a smug feeling ... and the code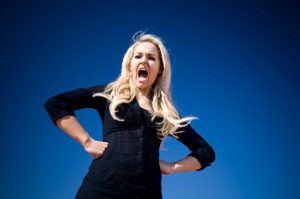 As part of my supportive wife challenge, I have been working on not being a bitch. Most women possess the ability to bitch in various strengths. There's summing up another woman's outfit, saying under your breath to your friend "interesting choice" and being rewarded with a snigger. You don't know the woman, she's just had the misfortune of walking past the cafe you are at. But that doesn't matter.
Then there are those who go public and face off against another woman on social media, which has become the prime feeding ground for women with bitch-like tendencies.
Earlier in my life, when I was editing magazines, people tagged me as a prime bitch, which was fine with me. I deserved the title and saw myself as a modern day Dorothy Parker whose wonderful writing and bitchy lines I inhaled at the tender age of 10.
This is the woman who summed up Katherine Hepburn's acting talents by saying "She runs the gamut of emotions from A to B".
In more recent years I have eased off the bitchy comments because I realised that bitching does not make you friends. Poor old Dorothy died alone in her hotel room and it was 17 years before anyone bothered to collect her ashes.
These days, women having a go at each other on social media has become the norm.
In Britain, academic Mary Beard, who has more than 50,000 followers on Twitter and sports a head of grey hair, complained that a new advertising campaign for Marks & Spencer featured high-profile women but not one with grey hair.
TV executive Janet Street-Porter responded by questioning why an academic should voice an opinion on something so trivial.
And then it was all on. This prompted fashion model Rosie Huntington-Whitely to do a story in The Times pleading for women to stop bashing other women.
As a supportive wife, I have to agree with her. It's one thing to support your husband, but it's another to support women.
I am modelling myself on the kind of woman who people say "never has a bad word to say about anyone". That means a lot of time not opening my mouth.
But I'm finding it quite difficult. It means that I must meet women and not make comments about their over-Botoxed face, the fact that they clearly have points on themselves and are hopeless name droppers.
"What lovely hair she has," you say (which is not-bitching code for "That's the best feature I could find"). "Such interesting conversation," you say (code for "Couldn't understand a word she said"). "She'll go far," you say (code for "She seemed to be hitting on every man in the room").
Being nice about every woman I know is a discipline similar to the one that gets me to the gym three times a week. You don't want to do it but you know it is good for you.
It's tough but I know the hard work will pay off and the results will soon show. I'm already feeling very smug.
My husband, who has been known to have a bit of a bitch himself from time to time, is not enjoying this phase of the supportive wife challenge.
Instead of sitting around our kitchen table with a bottle of wine and a good character assassination, I'm wandering off with a cup of tea to watch Miss Marple.
She's my new mentor with her clever wit but never a hint of bitchiness. I've even made some damson gin inspired by her favourite tipple and as for the knitting ... I don't know how the smug bitch does it.