Hobbling America's Cup racer because of sideshow contest sets stage for lawyer fest.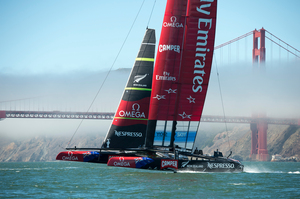 Just when you thought it was safe to go back in the water.
The international jury - now there's a flash title for the over-seers of a tub race - might be chuffed with their handiwork but it's done nothing for the America's Cup proper, which begins on Sunday.
I say proper with tongue poking through cheek, because there is rarely much proper about this fascinating, mysterious, random and often utterly stupid sporting contest that pits man against man, design against the elements and the rest of us against our better judgment.
Something we can definitely do without is a grand final contest in which one of the combatants starts in deficit, as defenders Oracle will do after the jury punished Larry Ellison's outfit for dark deeds in the America's Cup World Series.
This is like forcing a Melbourne Cup jockey to discard his whip because of a track work incident, or getting Mike Tyson to fight one handed for yelling at one of his pigeons.
Who cares what happened in a convenient invention called the America's Cup World Series and who even needs an America's Cup World Series? The cup combatants are either in or out. Racing must start at nil-all.
The precedent also has nightmare legal-tangle potential. Wait for the claims of world series yacht rigging and even jury rigging to explode. There are already too many lawyers involved. Compared with the mad history of the cup, whatever Oracle did in what should be considered a separate lead-up series is irrelevant and trivial.
The successful history of the Auld Mug is one of a stand-alone contest, not part of a world circuit which doesn't even use the same class of boat under the command of Dean Barker and James Spithill out of San Francisco. If Team New Zealand were to win the Cup, by say a one-race margin, it will be a hollow and probably much-contested victory that will, justifiably, squirm in a pile of legal argument.
As for banning one sailor for "cheating", most of us will presume he acted under orders which creates the image of a jury that doesn't know what it is doing.
But here's the key point: a separate competition - which has the name but no direct link to the America's Cup contest - should not affect the cup scoreline.
Power players needed
A monster, one writer called it. And a very exciting one at that. The Chiefs, back-to-back Super 15 champions, are chasing Sonny Bill Williams, Jerome Kaino and Julian Savea. Great stuff and it could be a coup to sign Kaino, if he hasn't gone backwards in Japan.
Significantly, the Chiefs are pursuing power footballers in line with what successful teams need in the era of flat, water-tight defence. The Dave Rennie-Wayne Smith coaching partnership has inspired an instant revolution, and one of the best things to hit New Zealand rugby in a long time.
The game needs a dynamic super power to raise the bar and fire the imagination. The world's most successful sporting competition, English soccer's Premier League, is what it is because of Sir Alex Ferguson, Manchester United and the like.
Our rugby would take a thrilling turn if the Chiefs can follow suit, on a smaller scale of course. For that reason, if they covet the signature of the old Blues favourite Kaino, I hope the Chiefs get their man.
Well done Auckland
Congratulations to the Auckland local body bosses who backed the NRL league nines tournament for millions. There are provisos attached to long-term support, and fair enough, although there didn't seem any linked to the squillions spent - and very unwisely in Auckland's case - on the last rugby World Cup.
Bale set to struggle
Gareth Bale, who has left English club Tottenham Hotspur for Spanish giants Real Madrid, will struggle with the pressure living up to a price tag that could make an oil Sheikh shake. The influential British press loves Bale, because it hankers for a long-lost world soccer supremacy and he is a ratings winner. Bale is stilted and untested compared to genuine magicians past and present - George Best, Pele, Maradona, Cristiano Ronaldo, Lionel Messi and co. He sure can play, but he ain't a $160 million footballer. Then again, nobody should be.