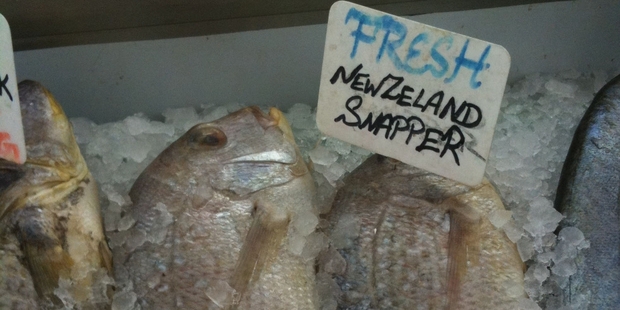 Council officials in Newport City in Wales are trying to work out who planted cannabis plants in public flower pots in town. More than 20 plants were discovered nestling among the begonias and petunias. But by the time police arrived, the specimens had been harvested. (Source: BBC.co.uk)
Knights to rescue of pregnant damsel
Sarah from the North Shore, who is 38 weeks' pregnant, had her first flat tyre. "Within 20 seconds of pulling over and flicking the hazard lights on, a blue ute stopped and a guy jumped out offering to help. Wheel was seized on, so off he went down the road to his house to get a sledgehammer. Meanwhile, two other men came over and offered to help too. Between them they managed to get the wheel off (brute force) and by the time my other knight in shining armour returned, the spare wheel was on. Moral of the story: If you get a flat tyre, simply be heavily pregnant and stand on the side of the road. Thanks guys."
Losing sight amid the technology
A reader tweets: "Our 11-year-old on Dad's FM radio phone app. Her: 'But I can't see who's singing?' Us: 'The DJ tells you.' Her: 'Lame! (pause) So how do I download a song?"'
Lesson from a learner
Fiona from Green Bay writes: "To the blonde curly-haired woman in the silver hatchback who, on Thursday morning, overtook my teenage son who was driving on Richardson Rd in the 30km/h roadwork zone. Not only was your overtaking manoeuvre illegal, tooting at a learner driver with L plates who was obeying the road rules was obnoxious. It was quite funny catching up to you at the red lights 100m along the road."
Politicians are funny: 1) National MP Chris Finlayson napping...
2) Labour leader hopeful David Cunliffe captured with his wetsuit on backwards.
Old media: The good old days of overt sexism... (Via ?@HistoricalPics)

Gif goodness: Boxing doesn't look like much fun in slo-mo...
Picture this #1: Paul Ego tweets...
Picture this #2: "Looks like this boy racer thinks homemade yoghurt is pretty darn cool," says Derek Helliwell ...
Video: Not a Taiwanese McDonalds ad...
Got a Sideswipe? Send your pictures, links and anecdotes to Ana at ana.samways@nzherald.co.nz