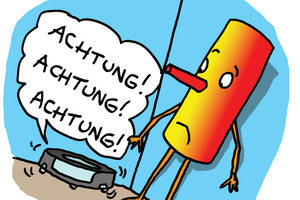 My domestic life has entered a new antiseptic era, with the caregiver suddenly bewitched by the latest television infomercials.
I've done my best to pour scorn on such invasive marketing, which hides the costs in frothy, persuasive dialogue, but to no avail.
Not surprisingly, shiny new steam mops have now turned up on our doorstep.
Not one, but two identical mops.
"One's for the holiday house," the purchaser tersely retorted, when I raised eyebrows at seeing double.
Her purchasing justification closely follows the TV patter.
"This is the only way of dealing with germs, particularly around our bathroom toilets," she muttered darkly.
This snide accusation refers to the fact that our happy home is residence to three males - two young boys and an elderly gentleman - who, the caregiver believes, have problems targeting toilet pans accurately.
In the past, the caregiver has resolved our careless habits by bombarding the offending areas with powerful antiseptic agents, earning her the nickname "Chemical Ali". Bathroom cleaning is tackled with such exasperated zeal that it's impossible to use the facilities for hours because of toxic vapours.
While grudgingly agreeing there was a case for taking the household into the steam age, I was taken aback when the mops were swiftly followed by the arrival of another TV package, containing a robotic vacuum cleaner.
A circular machine, similar to an over-sized landmine, it zigzags back and forth across the floors, mopping up everything, including the children's Lego.
It claims to be super-intelligent, boasting that it can return itself to a docking station when requiring a recharge.
"Take it to your studio and try the thing," offered the caregiver, confident I would approve of its effortless cleaning abilities. Unfortunately, I've pressed the wrong buttons on the programme, and it now talks back to me in German.
In spite of its cleverness, it still wanders off, jamming itself into impossible corners.
Once it is immobile, a female voice barks out: "Attention needed! Attention needed!" dominated by lots of repetitive "Achtung!"
This is not only interruptive, but also slightly spooky.
It's really like my first wife has returned into my life. She was from Berlin, so I've named the device Hildegard.
Between robotic Hildegard and steam-cleaning Chemical Ali, I'm becoming increasingly nervous that my slightly disorderly perch will ever be the same again.