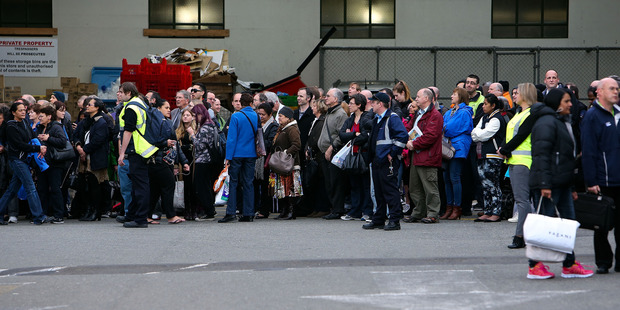 I am putting my hand up to say that we are overdoing the safety thing. Of course, safety is important but it's not the only thing that's important and I fear that we are making ourselves over-anxious worrying always about what could and might happen.
It can't be good for our health.
The dizzy limit was Wellington packing up for the afternoon after an earthquake. There were no reports of anyone hurt or any building damage. The mass exodus, coupled with the shutdown of the trains (for safety reasons), gridlocked the city and ground the motorway to a halt.
I am all for closing down Wellington at least one day a week. The savings in terms of spending and less red tape would be substantial. But shutting Wellington down should be a policy decision, not a safety one.
We look a pack of losers when a slight tremor sees us down tools, en masse, and head home to weep and wail too scared to sleep.
Last week I was driving through what had been the Christchurch CBD only to be diverted by dozens of road cones with the obligatory road safety truck making sure I was aware there was a hazard.
I negotiated the cones but was struggling to see the hazard. There it was! A drain cover right beside the gutter was lifted.
Two lanes of traffic were diverted and two people were assigned to warn motorists of an open drain cover that wasn't even in the roadway. The real hazard was the cones and the resulting confusion. It was completely over the top.
I recall a clip recently replayed on TV of a middle-aged lady speaking most calmly after surviving the Wahine disaster that killed 51 people. She had washed ashore in a life-raft following a perilous trip.
She was matter-of-fact about it, explaining how well they were being looked after, with the police supplying a hot drink and a blanket and she would soon be boarding a bus to take her to the station to catch the train home.
She was brave and she was tough. Imagine her now.
The TV wouldn't stop until they had got her bawling and blaming John Key for failing to provide maritime safety.
She would be seeking compensation and a team of counsellors would be working her over for stress.
Years later she would still be on the news demanding that more be done.
Of course, we should take care. But we shouldn't live in fear of what can happen. And we shouldn't pack ourselves in cotton wool. We need to harden up. After all, one day something could really happen.