TV blogger Paul Casserly names six shows that are unlikely to win the ratings battle but are well worth watching anyway.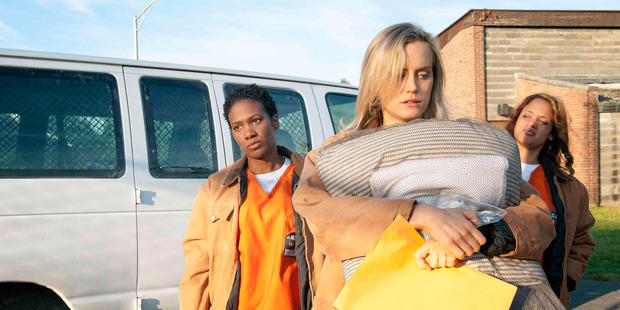 You may be surprised to learn that your favourite show, say Breaking Bad or maybe SuperCity, is probably only watched by the same amount of humans it takes to fill a couple of Eden Parks, while a show like Dog Squad pulls in the population of Wellington, and Christchurch combined. As a nation we'd rather watch cops with dogs harassing poor brown people than soaking up dramatic or comedic gold. That's how we roll.
Still, there's a lot of TV out there, and some shows which probably only have a busload of people watching can be the best of all. Here's a list of 6 shows that aren't likely to smash the ratings but are smashing nonetheless.
1: Orange Is The New Black. (TV2, Mondays, 11.30pm)
You can stop soaking up your bandwidth, as this has just started on good old-fashioned free-to-air. Like the recently concluded Shameless, OITNB is a top quality adult drama infused with plenty of comedy.
In a nutshell it involves a privileged white woman who goes to jail because of her past association with her drug dealing lesbian lover, played by Donna from That 70s Show (Laura Prepon). I actually found it quite annoying at first, but stick with it, it gets way better than the opening episode suggests. Mountains of reviews are glowing, but more interesting are the things the haters are saying on the Netflix site.
"SO MUCH NUDITY. I feel raped. I shut it off in the first two minutes because of how much nudity I was shown."
2: Pro Bull. (Country TV, weekdays at 6pm and midnight)
This is my favourite midnight wind down after a late dinner. The professional sport of trying to stay on an angry beast is strangely hypnotic and so visceral it makes rugby league look like playtime at the fairy shop. It's probably worth the monthly sub alone. Unless of course you have a farm machinery fetish, in which case you'll already be signed up.
3: Inside Amy Schumer. (Comedy Central, Thursdays, 9.50pm)
Sketch comedy that's mining some of the soil that Key and Peele like to roll around in, only Amy is a woman and she's white. It's not as grown up as say Louis CK, but it will make you laugh, and maybe snort. Schumer has edge but also heart. Here's a typical skit.
4: Da Vinci's Demons. (Box, Thursdays, 8.35pm)
A visually captivating if slightly crazed dramatic history of Leonardo Da Vinci with mild T&A. This is not a great show, actually it's kind of terrible, yet I'm drawn to it even as I hate on it. The Newsroom has the same effect on me, though creator David S. Goyer (Ghost Rider) is no Aaron Sorkin. On the plus side the special effects are very special - there are topless ladies, zebras and opium smoking. There's also some amazing realisation of Da Vinci style contraptions. When it's good it feels a bit like Sherlock crossed with The Borgias but when it's bad, it's pure Dan Brown.
5: Back Benches. (Prime, Wednesday Aug 28, 10.40pm)
You're just in time to catch the final episode of the current season of this uniquely kiwi twist on politics. Basically mates Wallace Chapman and Damien Christie hang out in a pub grilling all and sundry in this engaging piece of live telly. Part political debate part chaotic party, the title refers to the pub from which the show is broadcast as well as the guests who are typically MPs who are on their way up or perhaps on their way out. They promise to end the series with a bang with guests that include Peter (GCSB) Dunne, Grant (Future PM?) Robertson and Hone (Heke) Harawira.
6: Redfern Now. (Maori TV, Tuesdays, 10pm)
It's a gritty Aboriginal drama series set in the Sydney suburb of Redfern, which may have set off your political correctness alarm, but this also bears the fingerprints of legendary English producer Jimmy McGovern, the man behind gritty pure dramatic gold like Cracker and The Street. Watch the trailer here.