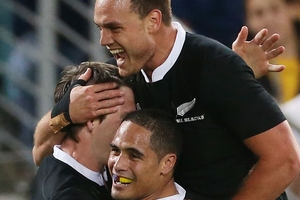 Long live the Three Amigos! May Kurtley Beale, Quade Cooper and James O'Connor long bless the Wallaby jersey, hopefully right through to the 2015 World Cup.
I attended Saturday's Bledisloe Cup in person as a kind of UN observer, watching in the stands surrounded by diehard Wallabies supporters, way more bedecked in yellow than we do in black. They're optimistic and intelligent and, in a way ... deluded.
A rugby match at Homebush fills any fan with terror unless you're being hosted and chauffeured to the game. For the rest of us, it's like entering and then fleeing a war-torn city ... rammed into trains to access a hellhole of a place.
But my night was a dream. A smooth train trip to the stadium and as I walked in I started to chat to a Kiwi in his ABs jersey. He's from "Papatoe", played for the Scorpions, and he and all his brothers now live in Australia. He's preloading on four JBs and coke and kindly offers me his last bottle which I accept with gratitude. It emerges he's off to a corporate box.
His boss is a seriously big cheese - and has invited him off the shop floor to join him for the night.
He doesn't need the last JB, he laughs, when an open bar beckons. As we chat it emerges he earns $2500 a week - he was earning $600 in New Zealand - and life on this side of Tasman is right for this great young guy. "I'd just be getting in trouble back home," he reckons.
We part on good terms and I head to my seat. I'd splashed out on a platinum seat on my own and head for the heavens. Up here on this level you can sense the Wallaby fans are from a different demographic compared to the broader fan base in New Zealand. They have chosen to love the Wallabies and it warms me to know they will be there for the long haul. The good health of Australian rugby, and these people, plays a pivotal role in the good health of our own game.
Almost 70,000 people suddenly take their seats and the match begins. I'm surrounded by a sea of yellow, to my left a Wallabies fan who knew his rugby stuff, further down the aisle, a team of boozy, loud Kiwis who spent most of their time leaving to buy drinks and smoke. I wonder if their night might have been better spent in a garden bar somewhere.
The Aussie fans roll their eyes and I pray that our guys keep it friendly (they do).
From the start I have the same recurring observation. The pace and skill factor is incredible as it unfolds live. The All Blacks start so fast, you can see they're here to play. Tries follow.
And this is where the Three Amigos come into play and where Ewen McKenzie has his biggest problem, but he's yet to realise it.
For me it harks back to a few years ago when ARU boss John O'Neill walked into a losing Wallaby dressing room 10 minutes after the game and the Gen X players were detached, on their smartphones tweeting and texting. Then came the legendary speech which went something like: "Put your phones down. I am not here as your mate. I am your employer! Where is your respect?" And I wonder, with this new lot, if anything will change.
As the Wallabies' fortunes ebbed and flowed on Saturday night, there was an amazing moment. If the All Blacks scored, the Kiwi fans whooped and hollered and high-fived. Then at a key moment the Wallabies kicked a vital penalty. It kept them in touch. But the Australian crowd was mute. They barely cheered.
I asked the knowledgeable Wallaby fan beside me what was going on. Where was the euphoria? And he said: "Respect, mate. There's players on the field who just don't have our respect."
Like who?
He trotted out the usual suspects: Beale, O'Connor and Cooper. "They just don't make you want to barrack for them because they've got such big [tickets] on themselves. They don't connect with us. O'Connor seems sly ... he leads his mates astray, then slips out the side door when the s*** hits the fan.
"The others aren't smart enough to realise this."
And neither, I suspect, is Ewen McKenzie ... yet. It seemed some Wallaby fans respect the All Blacks more than their own team.
They were whipped, no doubt. At one point the chant of "All Blacks, All Blacks" surrounded the stadium. There seemed to be so many Kiwis here I thought: "Jeez, you guys should keep your mouths shut. If there are Australian government ministers here they'll cut your social welfare!"
Then it's over. Wallaby fans are good losers. We shook hands and I headed with dread to the exodus - the trains.
Again, to my surprise, they ran smoothly, and I listened to some morons all the way home talking about shoving drugs up their bottoms, as a nice family with a 12-year-old girl sat beside them.
A train speeds past us, and as I look into the carriages racing by, the passengers are all staring into smartphones - all connecting with a world but not the one surrounding them.
I get off at George St and start walking to the hotel. George St does a roaring trade in homeless people and beggars. They don't have the charm of my friends on K Rd where my business lives, and I stop suddenly when I see one beggar's sign: "News Updates - $2." And here before me is a homeless guy with an iPad. An iPad! Only in this recession-proof wonderland!
So I tested him out, $2 in my hand. "What was the score in the rugby tonight, mate?" And yes, he's been following the game. "We got thrashed ... those bloody Wallabies. I see them on the piss here all the time. Hopeless!"
And that was the final word from the street. New Zealand 47 Australia 29.
Only a massive culture change, I suspect, will create a team worthy of their great fans.