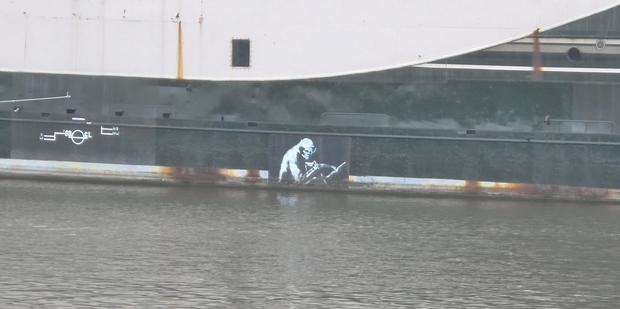 He began his graffiti around 20 years ago, spraying city trains, buses and walls and making himself the bane of Bristol's transport police and the curse of conservative councillors.
Today, though, the guerrilla artist known as Banksy has been warmly embraced by his home city, eager to cash in the fame he has accumulated in London, Paris, the Middle East and Hollywood.
An enigmatic figure who has never revealed his identity to the public, Banksy is arguably the most famous graffitist of all time, wielding stencils and spray cans to "bomb" with wit and social commentary.
His most famous images have included two British policemen kissing; Michael Jackson as an evil witch, offering a lollipop to Hansel and Gretel; a "Big Oil" vulture perched on a tree, its head replaced by a fuel nozzle; and the dog in the HMV logo, about to fire a shoulder-launched missile at the record playing his master's voice.
On the Separation Wall that Israel has built in the West Bank, he has spray-painted an idyllic palm-fringed beach, and the silhouette of a little girl hoisted over the 8m-high barrier by a bunch of balloons.
He has placed subversive works in leading museums; made an Oscar-nominated documentary, "Exit Through the Gift Shop"; and, carefully hacked from walls, his work sells for hundreds of thousands of dollars.
Bristol, though, is where his strange anarchistic career began - and where the contortions over his work reflect the wider question: What is art?
"We love him, and that's official," said Eileen Barker, a middle-aged shop assistant, pointing to her store's range of Banksy fridge magnets and mugs.
Banksy is believed to have been born around 40 years ago on the outskirts of Bristol, reportedly to a comfortable middle-class family by the name of Gunningham.
Immersed in a vibrant subculture of anti-capitalism, environmentalism, spraycans, rough cider and drugs, he and his DryBreadZ crew were declared a menace.
One night in 2003, he "bombed" a bridge in the docks as a comment on Bristol's involvement in the slave trade. The image was painted over within six hours. The same night, he stencilled the side of a nightclub ship moored in the city docks, which again the authorities painted over, rejecting pleas from the club's operators to save it.
Things changed in June 2006 when he secretly made a mural on the wall of a sexual health clinic in Park Street, one of Bristol's grandest addresses.
The mural depicts a window from the sill of which a naked man clings by his fingertips while above him a husband scans the horizon, next to his scantily-dressed wife.
The Hanging Man - or "The Well-Hung Man," as locals swiftly called it - was a direct challenge to the city elders, who could see the piece from the council chambers.
The Liberal Democrats considered it art, and jousted with Tories who viewed it as criminal damage. In the end, the city put it to a referendum.
Ninety-seven per cent out of nearly 500 people voted in favour of keeping the mural, triggering fury from Conservative Councillor Spud Murphy, who said graffitists everywhere had been given a spray-painted green light.
"It's ludicrous. The council have gone mad," he said. "They have given licence to everyone in Bristol to do it."
That was the moment when Banksy became Bristol's prodigal son - and the hoo-hah propelled him towards the carefully-cultivated celebrity he enjoys today.
In 2009, the city museum opened its doors to a Banksy exhibition, an invitation that prompted the artist to remark through the media, "This is the first show I have ever done where taxpayers' money is being used to hang my pictures up rather than scrape them off."
It drew 300,000 people, some of whom queued for six hours, and the city's revenue grew by 15 million ($29 million).
Today, we-love-Banksy is in full swing - the tourism office promotes it as heavily as Wallace and Gromit, made by local filmmaker Aardman Animations - and there are guided tours in English and Spanish of Banksy or Banksy-like works.
It has not all been sweetness and light.
In 2011, there were riots in the rundown Stokes Croft area after police raided a squat inhabited by anarchists opposed to the opening of a Tesco supermarket nearby.
The authorities later declared that they took action after receiving a tipoff that the group was making petrol bombs.
Banksy replied with a 5 "commemorative souvenir poster" of a "Tesco Value Petrol Bomb", its fuse alight, whose sales went to a neighbourhood revival organisation called the People's Republic of Stokes Croft.
Anyone who wakes up one day and finds a "Banksy" on their wall should reach, not for the paint pot to destroy it, but for the phone to call an art dealer.
Ruined Landscape, a pastoral scene with the slogan "This is not a photo opportunity" pasted across it, sold for US$385,000 ($477,000). Vandalized Phone Box, a British phone booth oozing red paint where it is pierced by a pickaxe, sold for US$605,000.
Slave Labour, a presumed Banksy of a poor child manufacturing Union Jack bunting for last year's Diamond Jubilee, was stencilled on the side of a Poundland store in north London, a chain whose products typically come from low-cost countries with lax labour laws.
Clearly unaware of any irony, the owners had the picture carefully cut from the wall and auctioned it in June for 750,000.
Fame and money have spawned a host of imitators, all of which are considered worthless.
"Fake Banksys are everywhere," laughed Grayson Lynn, a cycle tour operator, pointing to a stencil of Winston Churchill as a red-horned devil with a Banksy-like signoff below it, sprayed on a limestone wall in a former Quaker cemetery.
Banksy authenticates his work by placing an image of it on his website, a policy that shrewdly nurtures his brand in a market that he himself professes to despise.
As Banksy himself has said: "The art world is the biggest joke going."