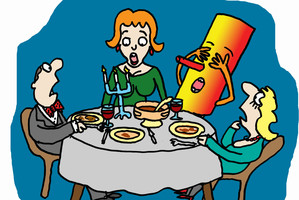 Years ago, I had the opportunity to buy a villa in Parnell for $11,000.
I was renting and the owner gave me the opportunity to buy before she put it on the market.
A professional valuation came back at $9500, leaving me reluctant to meet the asking price, which appeared steep. With hindsight, it's hilarious that anybody would quibble over paying $11,000 for such inner-city property.
I also hesitated at the time because of a ghastly trauma that had taken place in the abode, leaving me desperate for a change of scenery.
That particular incident still has me undoing my shirt collar buttons to breath more easily.
I have touched on the matter before but, for curious new readers, it involved a young, attractive, red-headed lady I'd met at some art gallery opening.
Being single, I had in my usual wolfish way given her an open invitation to visit my lair whenever she happened to be in the Parnell area. A few weeks later, I was entertaining a distinguished director of an international art gallery and his wife, (I was at the time curator of paintings at the Auckland City Art Gallery) and we had all just sat down to dine on beef stroganoff and a bottle of Margaux when there was a knock at the front door.
It was the red-headed young lady, pleading that she wasn't feeling well and could she use my bathroom facilities.
I agreed and led the way down the hall corridor. But she turned and instead walked into my dining room and stood swaying at the table, blankly staring at my guests. To everybody's horror, she then vomited over my candlelit dinner setting before fleeing the property, never to be seen again.
A few days after this excruciating embarrassment, my landlady offered to sell me the villa. Today, she will be very pleased I turned her down.
Holding on to the property, she finally sold it recently for $2.6 million to an overseas Asian buyer, who I understand has purchased several other properties in Auckland.
He believes the acquisition will double in value over the next few years, suggesting a tidy tax-free return on his investment.
Somehow, the latest KiwiSaver changes to assist first-home buyers appears to be a small band-aid, compared with introducing a capital gains tax to defuse this obviously out-of-control housing bubble.