Veteran prop likely to face Wallabies with limited game time.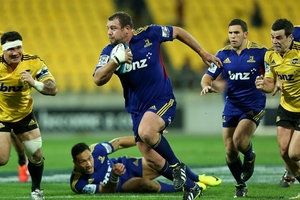 Most eyes, rightly, will be on how Richie McCaw copes in his test comeback against the Wallabies on Saturday but he isn't the only All Black likely to be lacking in match fitness.
In fact, McCaw is probably the best qualified out of any player to burst back into top-level rugby with little preparation given his famous fitness levels.
There was a test the All Blacks used to do to measure the build-up of lactic acid in the blood stream (in basic terms, the more lactic acid, the more tired and slower-acting the muscles become). Players were made to run between two points, perhaps 30m apart, as quickly as they could. There was plenty of recovery time between each run, the test designed to measure the rate at which players slowed over the distance. McCaw was said to break the mould by holding steady or speeding up, rather than slowing down, and this after setting a fairly quick first benchmark run.
McCaw's endurance, then, should be okay. But what about that of Tony Woodcock, a player who has flown under the radar this season and has continued to do so despite being on the brink of his 99th test? Wyatt Crockett was the incumbent loosehead prop in the June tests against France, but a knee injury will delay his start to the Rugby Championship.
Highlander Woodcock, who has had an frustrating and injury-disrupted season, is likely to be his replacement, with Charlie Faumuina, who has played even less, as one of the prop reserves. Ben Franks is likely to be the other.
A hamstring problem and painful nose abscess combined to curtail Woodcock's season for the Highlanders and All Blacks in June, with Steve Hansen giving an insight into the unique fitness requirements of a front rower before the second test against France in Christchurch.
"He's come back and played and had two or three games and got injured or in this case he got a nose infection which put him in hospital for two days," Hansen said then. "Is it a chance for him to start [to turn a corner]? Yeah it is, but what he's going to need is a continual roll of being able to perform. If we can get four, five, six, seven, eight games in a row into him, I think we'll see the real Tony Woodcock. Front row is difficult. You've got to play at least three games before you're comfortable at scrum time."
Which brings us to Faumuina, a bright prospect who in June had his progress stalled for the second year in succession by a calf injury. Faumuina's last game was for the Blues against the Highlanders at Eden Park on April 5.
Both Woodcock and Faumuina got some game time at Lower Hutt recently, but neither played 80 minutes. Joe Moody is the back-up option, but is unlikely to go anywhere near a match-day squad in the near future, given his inexperience. The 25-year-old Crusaders player made his Super rugby debut this year but was used as a back-up for Crockett.
On the other hand, the Wallabies' propping stocks have picked up recently because of the good form of Scott Sio, a 115kg 21-year-old destined for the big time after an excellent season with the Brumbies. Also in the mix are his Brumbies teammate Ben Alexander, the Reds' James Slipper and Waratah Sekope Kepu. Of that line-up only Kepu could be considered anything approaching a weak link. Another Waratah, Benn Robinson, a good campaigner for Australia with more than 50 caps, failed to make the final cut.
The Wallabies believe the new scrum engagement laws will give them an edge in this set piece. The storming Super rugby form of Sio and Alexander, who played for the Brumbies in the final defeat to the Chiefs, plus that of Slipper, could give them another.
The All Blacks have long enjoyed a dominant scrum against the Wallabies, but that set piece, like the overall contest with a team buoyed by Ewen McKenzie's introduction, is likely to be extremely even at ANZ Stadium.
- APNZ