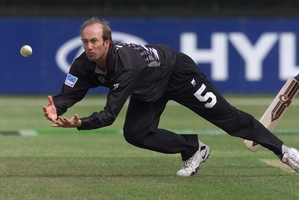 Stevie Wonder was made to love her. Steppenwolf was born to be wild. The Black Caps are the best fielders in the world. No three-day debates needed, no committee meetings, they're the best. In fact, we're so ahead of the pack, people don't notice how good we are. It's a fact taken for granted.
Roger 'cream-catcher' Twose took a divine diving catch. It happened on the boundary, in front of the terraces, against India or South Africa in either early or late 1998, or early 1999. It was a one-handed wonder, to be exact, which inspired the then already-maniacal Eastern branch of Eden Park into a sea of frenzied limbs and deafening gleeful yelps.
I wasn't there, so I recalled an excited Ian Smith's televised remark: "You might not see a better catch this summer!" And, amazingly, Smithy was wrong. A mere two months later, Roger himself refined a more outstretched version of the first catch, but with his other hand, on the southwestern side of the same ground, again on the boundary, against South Africa or Australia.
And he sprinted to get it. The people in the then-and-now dead block of boxes scarcely batted an eyelid. Why? Well, he was sublime as usual. So, why make a fuss?
Then a year or so later, Nathan 'alien-voice' Astle took an even better catch in Christchurch. And the people only cared for about two minutes.
Fast-forward 13 years and seeing Brendon McCullum today in the field is like seeing a bloody seal. There's nothing he can't do. Additionally, Marty Guptill can save almost any would-be boundary and Ross Taylor can take match-winning catches, every inning, in the slip cordon. Kane Williamson's no slouch either.
Lest we forget, we beat South Africa, in South Africa, just this year, on run-outs alone. And, yet, no one recognises our heroics as fielding experts.
Backtrack a decade and a bit to where Christ Cares could take cool-as-you-like catches, Chris Hazard would effect run-outs with his thighs closed, Stephen Fleming was the world-premier slip fieldsman and Adam Adoreme the sharpest keeper in the world.
These fellows would perform acrobatics in Australia and not so much as elicit even begrudging praise from the apes in the Australian commentary box. Yet when Mark Bore would take a bread-and-butter catch in the slips or Ricky Punting would effect a stock-standard run-out, William Maurice Lawry and the boys in the box would shriek like hyenas. Jealous, that's what they were.
Backtrack a further decade and a bit, when Sir Richard Hadlee took his career best of 9-52 against the atrociously braggadocious Aussies in 1985-86 at the Gabba, Hadlee himself took a magnificent, catch off his only non-wicket.
Since then, everyone from Matthew Sinclair to Jess Ryder to Jake Oram to Lou Vincent to Scott Styris has been nothing short of divine in the field of fielding.
The only below-par ones have been Daniel Vettori and Diamond Fool, and that's because the former was too busy saving us with the bat and the ball, while the latter was probably off at the Cosmopolitan Club when he was supposed to be at third man. Oh, and Mark Richardson seemed to completely disappear when fielding.
On the other hand, the West Indies are too tall to field effectively. The sub-continental players are too floaty to stop a hard ball. The South Africans have brilliant flashes in the field, but not nearly as often as our boys. The Aussies are a bit above average, while the game's inventors, the English, as we've seen during the Ashes series, can't field at all.
Maybe if the combative commentators weren't busy talking about their ancient careers, we'd get the recognition we deserve as premier fielders.
NZ would be a good place to start.