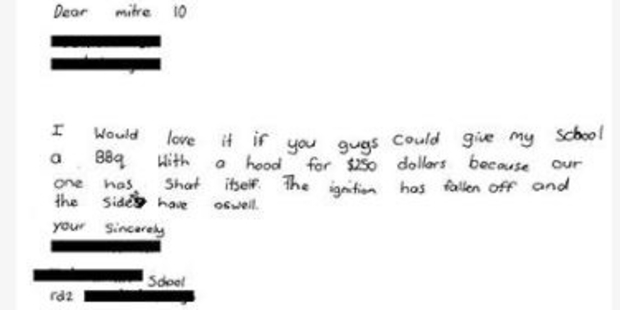 Mitre10 received this letter and posted it on its Facebook page on Friday asking, do you think we should we give them a new BBQ? It received 13,000 likes and more than 2000 comments saying "yes".
Bad combination of net searches
A New York woman says her family's interest in the purchase of pressure cookers and backpacks led to a visit by six police. Michele Catalano, who lives in Long Island, said her web searches for pressure cookers, her husband's hunt for backpacks, and her "news junkie" son's craving for information on the Boston bombings had combined in the internet ether to create a "perfect storm of terrorism profiling".
A whiff of true supporters
Independent MP Brendan Horan is circulating a petition calling for recreational fishers' access to snapper to be maintained in the face of a government review which would drastically cut their access while leaving commercial fishery alone.
He tweeted: "Just got given an envelope full of signed forms for the snapper petition. Can tell by the very fishy smell that signatures are genuine."
Even fish have their limits
A Gothenburg nightclub has been told to turn down the music after authorities found the club's pet fish were suffering from the noise. Swedish rules state music cannot be played over 65 decibels for extended periods when animals are nearby, and the music was recorded at 100 decibels. The board said the club must either get new aquariums or quieter music, or risk losing its permit.
Getting in early
Westfield Manukau says the set-up pictured in SideSwipe wasn't for Christmas, but their Old Mother Goose Nursery Rhymes storytelling set being packed away. But a reader in Wellington snapped this on July 2: "Yep, a trolley-load of Christmas trees heading into Kirks on Lambton Quay."
Paying it forward
An elderly couple decided to have lunch with friends at a cafe in Papakura. The wife entered the incorrect pin twice for the $27.50 payment. The next customer then insisted on settling the bill. The couple decided one good turn deserves another and bought $27.50 of groceries for the Auckland City Mission.
A rather fetid plunge
A reader writes: "The story of the picnic at the Orana Park Lion Enclosure in Christchurch sounds like another I heard ... some German tourists were heading north of Auckland when they spied the Rosedale sewage treatment ponds and thought 'What a lovely lake for a swim'. They climbed the fence and, in this case, the cavalry did not arrive in time!"
News: The South China Morning Post has a wonderful story about a man who decided to smuggle his pet turtle through customs by hiding it in a KFC hamburger box, in a bun....
Picture this #1: Every year in Key West, Florida the Hemingway Look-Alike Society holds a Hemingway look-alike competition. This year photographer Henry Hargreaves took photos of the contestants and tried to replicate this iconic photograph of the writer...
Picture this #2: A great collection of celebrity passports from 50s and 60s...
Video: Get a haircut...
Got a Sideswipe? Send your pictures, links and anecdotes to Ana at ana.samways@nzherald.co.nz.