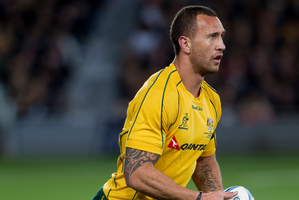 QC is back, not the Queens Counsel or anything else the tiresome Crusader crowds would call Quade Cooper.
He's among the 40 players Wallaby coach Ewen McKenzie will pick from for the opening Rugby Championship test with the All Blacks.
While McKenzie suggested he wanted to engage the media much more than his predecessor, when it came to questions yesterday about Cooper the new coach was reluctant to get into much chat.
He wanted to deflect attention towards other five-eighths such as Matt Toomua, Bernard Foley, perhaps Christian Leali'ifano or utility Mike Harris who were in the squad.
So come on you Australian scribes, go easy on McKenzie.
This side of the Tasman we don't want you spooking the new coach just yet about his faith in Cooper. That will come soon enough after a couple of outings in Sydney and Wellington, if Cooper lasts that far.
Cooper goes with Genia, it's like Torvill and Dean (not Robbie) or Lillee and Thomson without quite the concerted menace or style.
You can't have Genia and Toomua or Genia and Foley or worse still Genia and Leali'ifano because Marto won't be able to get his cyclopsian thoughts around that last combination.
As long as the Reds duo stay intact, McKenzie will struggle to go past them for his opening foray into coaching the Wallabies. They have been his go-to blokes for the Reds and they do spark each other's games at that level.
At international level Genia continues to deliver excellence while Cooper has spluttered. Either he can't gear his game to the greater intensity, or the Wallabies style Deans wanted did not suit him.
Perhaps a bit of both but there were too many whoops moments from Cooper. Maybe McKenzie has the keys to a solution to bring the best out of both playmakers.
It was not evident in the Super 15 quarter-final in Christchurch, where Cooper was like a spare part in the frontline or in the backfield.
Cooper has a bunch of rugby tricks which light up Super 15 crowds. In many ways he has the elan Carlos Spencer used to enthral Blues' spectators.
But at test level, flamboyant chicanery gets you only so far. When many of those matches get into the tough-it-out sections, five-eighths have to carry that consistent steel and low mistake rate.
Is that really Cooper's modus operandi or will he prove to be the missing link for the Wallabies?