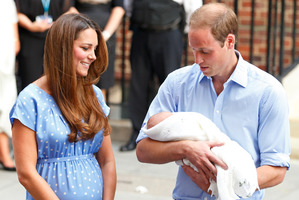 Difficult though it might be to believe today, when they said in 2013 that the world was gripped by news of the birth of a British prince, it wasn't much of an exaggeration. Of course, there were parts of the planet that cared not a fig for the arrival of a baby for William and Kate. But 30 years ago large parts of the Commonwealth group of nations were genuinely enthused. Here in Aotearoa New Zealand, it dominated coverage on television, online, and in newspapers (digests of news printed on sheets of paper the size of a beach towel).
To many, especially anyone under the age of 35, it seems inconceivable that such a strange royalist fervour might have been witnessed in 21st-century Aotearoa NZ. But remember, three decades ago our head of state lived almost 20,000 kilometres away in a huge stone building. Her image was embossed on the flipside of our coins. The Union Jack filled a quarter of the flag. It was, in some senses, unrecognisable.
The attachment to the monarchy was such that leaders thought it a sensible idea to mark the royal birth with a 21-gun salute in Wellington, a city full of frayed nerves from a series of serious earthquakes.
Youngsters will scoff, but these are recorded facts. Some 37 landmarks, from Auckland's Sky Tower (as it was then known) to the Southland Museum were illuminated in blue. The blue was not meant as a royal blue. It denoted the sex of the baby. For a short time, at least, pink floodlights could be purchased at a handy discount from hardware stores.
News bulletins in Aotearoa NZ earnestly detailed the way William had placed the baby-seat into his car. Individuals eagerly signed a virtual congratulations card at a "website" hosted by "The Google", then a powerful internet company.
In keeping with the blanket coverage, John Key, then less than midway through his record-breaking prime ministership, announced the official Aotearoa NZ gift would be, well, a blanket. Unlike traditional transactions between the peoples of the two lands, however, muskets did not feature.
Skip forward to 2043, however, and the announcement that Geor-ge - who added the hyphen in a 2035 rebrand - is to have a baby with his spouse and agent, Benevolence, rates barely a mention outside the celebrity organs. There will be no blankets this time.
Though it wasn't obvious at the time, the Jubilee and the arrival of Baby George represented a peak in popularity for the royal family. Elizabeth II and her grandson William had admirably restored goodwill, but it was not to prove enduring. As Elizabeth's capacity for the "regal hard yards", as one historian put it, dwindled, Charles stepped up, eager to share his views with democratically elected leaders. The darkest day, said one British MP, was when somebody taught him how to use email.
For many, Charles' decision to convert Kensington Gardens into "Herbtopia", an alternative healing oasis, was the final straw. British subjects demanded Elizabeth II return to London, but she insisted she wasn't up to the long-haul flight, and remained steadfast at the elite Seychelles resort where she continues to live to this day, just down the road from former South African President Nelson Mandela.
The British determined after a lengthy commission of inquiry (the last royal commission) to reduce the Windsors' role to one of ceremony only, despite the efforts of monarchist militia and Hollywood studios. The loss of the millions of pounds of subsidy from British taxpayers led to the family exploring new avenues for income.
While Camilla was a success as host of Who Wants to Be a Squillionaire?, Harry's adventure as co-host of Top Gear was a major setback to the Windsors' television aspirations. No one needs reminding of what happened in the foothills of Iran's Zagros mountains. Had it not been for William's contribution in developing the "Facebook-killing" social networking device HRH-FTW, the family might very possibly have fallen into penury. As it was, they soon morphed into a kitsch dynastic cabaret act.
For New Zealanders, the royal umbilical cord was cut much earlier. Arguments for retaining distant aristocratic overlords - that it furnished some sort of disinterested stability, that it was all such jolly good fun - had long since fallen away in the face of the manifest absurdity of the arrangement.
In the late 2010s, when Sir Bob Jones dressed as a giant kakapo and chained himself to the railings at Government House, the people were roused, and the response to the nine-part referendum was resounding. That same Government House is today home, of course, to President McCaw.
Aotearoa NZ these days has enough to worry about - not least the resurgence of the South Island secessionists under Richard Prosser - without royal distractions. Geor-ge is widely liked, even if he has never managed to match his chart-topping successes in Japan. But the idea of Aotearoa NZ having as its head of state a bloodline monarch in a faraway land seems in 2043 truly bizarre, as antique and exotic as a dot-matrix printer.