Declining all boat people has only thin silver lining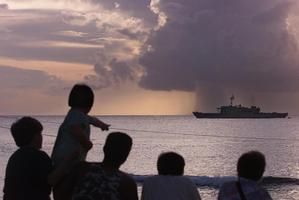 For many Australians, the problem of asylum seekers will be one of the major issues, if not the most important, at the coming general election. They have reason for concern. About 3000 people are arriving by boat every month, a figure that the Foreign Minister, Bob Carr, says could escalate to 50,000 a year. Addressing the unease was, therefore, always going to be a key task for Prime Minister Kevin Rudd following his unseating of Julia Gillard late last month. If he was to achieve the seemingly impossible and cling to power, his response would have to be substantial and striking. On that, at least, he has delivered.
Mr Rudd has announced that refugees arriving on unauthorised boats will be sent to poverty-stricken Papua New Guinea for processing. If they are found to be asylum seekers, they will be settled there. If found not to be asylum seekers, the would-be refugees will be returned to their home country or a third country. The message behind the pact with Papua New Guinea is that boat people now have no chance of being resettled in Australia, and that those who pay people smugglers and risk the dangerous voyage are wasting their money and, potentially, their lives.
The irony here is palpable. During the years when the Howard Government's Pacific Solution policy held sway, the Labor Party claimed it was unnecessarily mean-spirited. When Mr Rudd came to power, he duly abolished the offshore processing centres on Nauru and Manus Island in Papua New Guinea. All this achieved, however, was a belief that Australia was a soft touch. What had been a trickle of boat people become a deluge. Eventually, the offshore processing centres were reopened and further facilities were built on Christmas Island and at Darwin.
New Zealand became part of this earlier this year when it agreed to accept 150 boat people a year from Australia's processing centres. Mr Rudd's initiative means that will no longer be necessary. Under his predecessors, the harsh environment of the offshore camps sought, unsuccessfully, to deter asylum seekers. Now, he has effectively shut them out of Australia. In so doing, he has trumped the Liberal Party, whose "turn back the boats" policy is neither a practical nor a safe way to address the problem.
Senator Carr described the policy as "brutally honest". He did not add that it shows nothing in the way of compassion and is at odds with an international convention to which Australia is a signatory. This obliges it to protect asylum seekers fleeing violence and persecution, and who might have a genuine refugee claim. Dumping them on a poor country that is volatile politically and riddled with corruption and crime hardly seems in the spirit of that undertaking. The Greens' immigration spokeswoman, Sarah Hanson-Young, concluded as much when she said, "It is a rush to cruelty as Kevin Rudd rushes to the polls".
On only one real ground can the policy be defended. It is apparent that some among that flood of boat people have been economic migrants, not men, women and children fleeing persecution. Removing all boat people from the picture means Australia can accept more genuine cases through the United Nations resettlement programme. New Zealand, freed of its agreement with Julia Gillard, can, likewise, give more people in refugee camps a fair go.
That, however, is a relatively minor silver lining. For Mr Rudd, the pact with Papua New Guinea is a further step towards saving Labor from annihilation. And if, against all odds, he pulls off an election win, a descent to this harshest of all responses to the boat-people conundrum will have been a pivotal factor.