Dignified couple's arrival one we can all enjoy.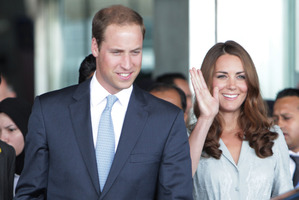 A baby quite ordinary in every other way, has no idea yet that he is going to have an extraordinary life. Heir to a monarchy that commands more of the world's attention than any other, his status is pre-ordained. Even celebrities normally have a private childhood. This one will not.
Yet it is the "normal" things that happen in the royal family that captivate us most. The royal birth has attracted the kind of warm interest that people feel for a baby born to a close relative. News of the pregnancy and signs of its progress made the baby's gender and possible name a matter of universal conversation, which intensified keenly as the birth became due.
We noticed that Prince William and Catherine were like any young expecting couple we know - a little awkward but blissfully excited. Prince Charles seemed as nonchalant as any man on the matter - until the baby arrived. Yesterday he expressed the special unexpected delight that every new grandfather discovers.
And the Queen will be quietly astonished, like every great-grandmother, that life has let her see the first member of a new generation.
It is the genius of this royal family to be both public and private figures at once. They never court publicity and they are capable of ignoring it for the sake of some privacy. Typically in the past few weeks they felt no need to tell the world precisely when the baby was due, despite the rosters of news photographers camped outside the hospital and all the earnest knitting going on.
Any ordinary celebrities who seemed so cavalier about the public interest in their happy event would be courting trouble, especially these days from their followers on Twitter. But when it is a royal couple nobody minds, their ability to keep a detail private is even appreciated. It dignifies them. It says they are not completely instruments of public demand, they can make some decisions for themselves.
William and Catherine are refreshing the institution. Before their wedding they declared their intention to lead as normal a life as possible and they appear to be doing so. Their baby appears to be blessed with sensible, stable parents as well as the advantages of his birth.
It is to be hoped that they take the baby on royal tours, as Charles and Princess Diana did with William. The photograph of that young family on the lawn of Old Government House in Auckland is one of royalty's enduring images. No milestone in William's life passes without mention of Diana. Her legacy lives on in his way with people and the future of the monarchy is better for it.
The birth of William's heir lets us look even further into the future. Somebody calculated yesterday that if the baby boy lives to the age the Queen is today, he could still be on the throne at the turn of the next century. By then, would he be King of New Zealand too?
Not very long ago it was considered "inevitable" this country would dispense with the monarchy one day. Even prime ministers said so. That view has been muted ever since Prince William's visit in the wake of the Pike River mine disaster and the Christchurch earthquake.
As generations pass, countries such as this one may be less anxious to cast off a connection of heritage that presents no threat to their constitutional sovereignty. The role of the monarch as head of any state has become less important to most of us than the role of a royal family as a shared experience of life in all its moments, the difficult and the wonderful. Now, what will be his name?