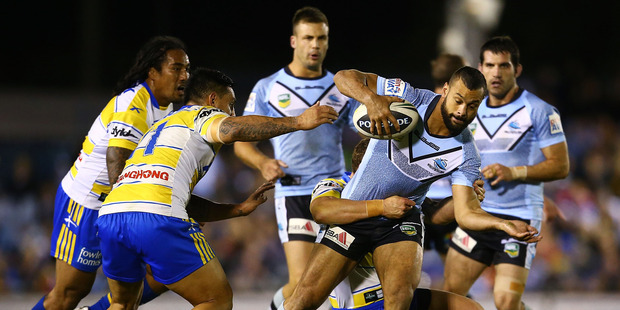 Rugby league was invented because rugby union wasn't tacky enough. This Butcher, Bourbon, Fast Food and Rum-sponsored code is, we all know by now, the very vision of tackiness.
Even when, as a sport, it's trying to sound upmarket by calling the final the "Grand Final", its tackiness ironically increases tenfold. Grand Finale sounds good, I accept that; Grand Final sounds like something you'd call your Pit Bull.
The Irish use grand compulsively, but even they don't preface the finals of their major sporting events with "Grand". No, they realise it sounds daft, especially in that complacent Aussie twang.
Garish outfits are staples of league teams. They look like jockeys, players and match officials alike, in their sickeningly brightly coloured strips like pieces of sick. Trying their darndest to be as offensive-looking as possible so as to commit to alcohol-addled memory.
Not to mention, the officials have a knack for looking ridiculously rigid with their grave-ward pointing signals of try and their ugly, jogging 10 Degree signals of penalty.
Moreover, the touch judges' hideous, statuesque, right-angled arm-raising of flags to delineate a successful kick - as depicted by that horrendous on-ground camera angle - is tacky enough to make one sit on tacks.
My word, does that camera angle make even the easiest of kicks look impossible! (I've just realised my tackiness in using an exclamation mark - my apologies.) Anyhow, it's not as if we're dealing with great goal kickers in the light of all the rugby greats, so the cameramen could be more sympathetic.
When I was young, my deluded school pals would call the aptly named 10m line the "40". "Oh, mate we'll play between the goal-line and the 40," they'd belch in an Australian twang.
They watched far too much league to know what the 10m line was, the beasts.
"The 40" sounds suspiciously akin to the members of (liquor) cabinet so embarrassingly promoted on rugby league fields in NRL matches across Australia - a tacky happening no matter how you look at it.
I mean we're not in the 1970s any more. In addition, we are gridlocked in tackiness with the "50", "30", "20" and "10" metre lines on league pitches. It's stinkingly redolent of that revolting NFL nonsense from the United Society of Armaments. I hate it.
Furthermore, names such as Phil Gould, Gary Freeman, Darren Lockyer, Gordon Tallis, Nathan Cayless, Greg Inglis, Jason Donnelly and Cooper Cronk could only exist in the environs of rugby league - and these are really hard Aussie names. Never would such names survive in a softer sport like rugby union. Percy Montgomery says it all.
New Zealand rugby players, for the most part, can't speak English; I'm the first to acknowledge that. Post-match, a rugby player will, for instance, bemoan how his team didn't play "enough rugby", as if they were playing beach volleyball instead.
However, at least he will not use "come" in the past tense the way a leaguie will: "We come over here from Melbourne after three straight losses" - fellas, I'm here to tell you, it's "came"; it's not too tricky.
Meanwhile, Stephen Larkham, an Aussie union luminary, will say pre-game: "We're very wary of their potential." I don't think Miltonimself could translate that.
Only could an NZ European league captain from NZ, in NZ, choose to speak in an Aussie accent. At least NZ European union players elect to sound like Pacific Islanders.
Finally, the Kiwis is sonically far more tacky than the All Blacks as it gives the Aussie twang far more room to express itself, by saying, "The Quay-wees", and the State of Origin is too tacky to start on.
Ah, the Chiefs!