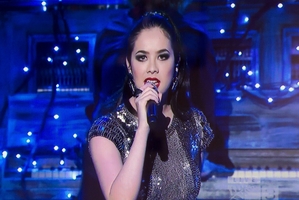 I feel so much older now than when X Factor NZ launched and I don't think that's entirely to do with the passing of time. No, there's something about X Factor NZ that holds you tight, drains you dry and makes you weep for the end.
Well, at least that's what it does to the contestants, who started out numbering an unlucky 13 back at the beginning of time, and last night, in the drawn-out second-to-last gasp of the finals, were down to three.
Only one act, though, has ever looked remotely like the sort of winner who might actually go on to something after X Factor beyond six months of fading light.
Only one act had any real point of difference, most especially a strong hint of originality.
Pity about the hair and some of the headgear, but gangly Benny Tipene from Palmerston North always seemed like the only one in this awful contest who was unto himself enough to be crap at a karaoke bar.
And still he survived because, of course, much of X Factor NZ has been a karaoke show with a runaway budget, celebrity judges and a fast-talking, tight-suited host called Dominic Bowden.
By last night (TV3, 7pm), those judges seemed so worn down by the whole thing, they succumbed to niceness as the finalists tackled two songs apiece - the first solo, the second performing with the original artist.
All of them shone - Tipene, folk-rocking it up at the end with Avalanche City, sweet-voiced Jackie Thomas with Adeaze and big-voiced Whenua Patuwai with crazy-voiced Hollie Smith.
In fact, all was niceness last night, with visits to each finalist's home town to meet the whanau and sing for the locals. That helped to fill out this shamelessly over-stuffed show, though even a cynic might feel a rising excitement of sorts at the thought that tonight it all ends.
No more Stan Walker being "so proud", no more mad Dan Bedingfield - dressed down in a calming black last night, no more mean Mel Blatt, no sweet Ruby Frost and her candy-floss hair. Just a kind of peace - but only until NZ's Got Talent lurches back to its awful feet over on TV One.