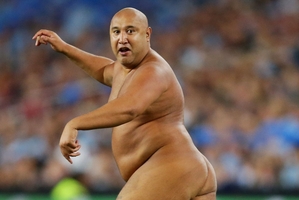 It appears to have taken a set of bronzed buttocks to create red-faced embarrassment this week as Australia's fabulous night of sporting entertainment - the 2013 State of Origin series decider - played out before 84,000 people in Sydney.
A dozen Facebook pages have reportedly been set up "in honour" of the hitherto unknown Wati Holmwood, who brought the game to an untimely halt with his naked sprint in the game's dying minutes.
Holmwood, who says he made the charge "to see myself on TV" met his objective and may have single-handedly advanced a case for the use of face recognition technology. For the uninitiated, this is the electronic technology used by police forces around the world to identify individuals in large crowds.
Holmwood's crazy, naked run through the middle of the Maroons' forward pack, as they probed for a winning try in the final seconds, revealed something more than face recognition.
The amply built Kiwi bared more of his nether regions than his face for the cameras and was enveloped by security staff as he became entangled with the players. But with the appropriate technology he may have been stopped before launching himself from the crowd.
For New Zealanders who have long wished to be part of this superb sporting spectacle it must have been an ignominy that someone would have so little respect for the importance of the occasion. Wati set the bar of acceptable behaviour perilously low and then still failed to clear it.
New Zealand's "contribution" to the occasion was shameful and deeply embarrassing.
It is not enough to blame it on the security; in such a huge stadium, they are entitled to rely on good sense from the crowd to help protect players and spectators.
What drives people to this idiocy, particularly when they are being entertained by the best sport can be?
Some will still say they enjoyed the spectacle and the experience but Wati already has form in this area.
Whatever the penalty he received for a past pitch incursion during a Warriors game some years ago, he should not have been wandering around this field of dreams, which must have had the same temptation to him as a kid would find in a lolly shop.
Now we must suffer another diversion from football on the field in what is shaping up to be a brutally exciting run into the NRL semifinals.
Ground control will only get tighter and this will be another frustration for spectators.
As for Wati, he clearly has a problem in this area and merits a lifetime ban.
It's hard to know, though, what more can be done to monitor likely copycats. After all, what does a serial streaker carry in their kit-bag that might be a giveaway to further glory-seeking runs?