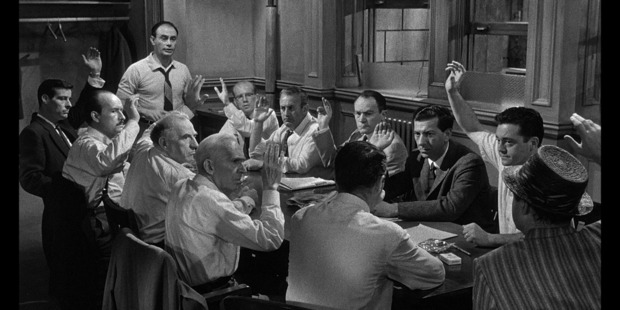 I've always wanted to serve on a jury. Courtroom dramas are the stuff of great movies and have spawned a genre of thrilling fiction, usually involving an innocent man in the dock, a brilliant lawyer and a jury comprising 12 individuals, all of whom are intelligent and utterly focused on the job they have to do.
Who wouldn't want to be a part of that? The reality, of course, is quite different. More often than not, courtrooms are grim places where stories of human tragedy are told, day-in, day-out.
Most lawyers are overworked and underpaid, most defendants are repeat offenders and most people don't want to serve on a jury. They see it as a thankless task that costs them time and money.
James McAllister's refusal to serve on a jury and his subsequent jailing by Judge Nevin Dawson for contempt of court is an extreme example of a different sort of courtroom drama that takes place every day around the country.
Our justice system depends on people willing and able to perform their civic duty and, as law professor Warren Brookbanks told the Herald, if people refuse to perform their duties, that can affect the rights of others.
Jury service is seen as part of the price we pay as citizens to live in a civilised society. All very fine in principle but what about the rights of others to earn a living?
A lot of New Zealanders are involved in small to medium-sized enterprises (those with five or fewer full-time equivalent employees) and many of those people are self-employed.
You may very well want to do your bit in upholding our country's longstanding legal system but if doing so is going to cost you a week's salary, I can understand your reluctance.
The $31 a half-day people get for jury service doesn't cut it when it comes to reimbursement, even when parking costs are thrown in.
Courts Minister Chester Burrows says changes made to the system three years ago have given people more flexibility when they are summonsed for jury service.
People are now able to defer their summons, but Burrows says with that flexibility comes a tougher stance on accepting excuses for not serving on a jury.
You can't get much tougher than biffing a bloke into prison for 10 days.
Brookbanks says a 10-day sentence is designed to send a message from the judge to the community - in this case, that jury service is an important obligation and that the court cannot, and will not, be trifled with.
All well and good, but people's reluctance to turn up for jury service goes beyond the considerable cost in terms of time and money.
I think there's been an erosion in the confidence people have in our court system - there really is a contempt of court that can be seen in outspoken criticism of many judges and their sentencing decisions and the disgust people feel when criminals walk free because of legal loopholes.
Many people feel we no longer have a justice system. Rather, we have a legal system in which justice is not always served.
And no matter how many people are thrown into jail by dyspeptic judges for refusing to perform their civic duty, that's not going to change.