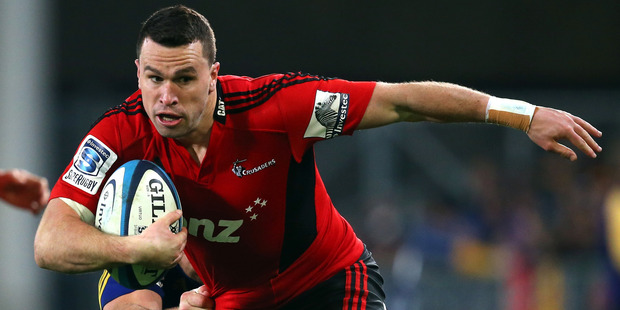 Q. Hi Kamo,
According to a news report, Tom Marshall is heading to the Chiefs, where he believes he will be the starting fullback: "I am keen to push for more starting opportunities in my preferred position [fullback] so the change was appealing." I find this really puzzling when you consider that Gareth Anscombe has been superb at 15, they have the brilliant Robbie Robson and even Andrew Horrell does a better-than-mere-fill-in job. Why would Marshall think he could get regular starts at 15 when he is competing against that lot?
What the Chiefs need is a centre! At least somebody who can fit in alongside Bundee Aki, who has been doing a great job at 12.
To me, Marshall's reasoning seems bizarre - do you have any insight into this move?
David Leaper
David, it may seem like the Chiefs are stockpiling a lot of our outside back talent in Hamilton and the truth is, they are. But why has Marshall gone to the Chiefs? With the re-signing of Israel Dagg by the Crusaders and Todd Blackadder's preference to play Tom on the wing, even when Israel was out of form or unavailable, it closed the door on him ever having a chance of a regular spot at fullback in Christchurch. At the Chiefs, even with the talent you have mentioned, that "no chance" goes to "half a chance" and that was enough for Marshall to back himself and make the move to an environment where he will flourish.
He already has a strong relationship with Dave Rennie, respect for what Wayne Smith can do for a player's career and this move will give him the best chance to move up to the next level.
Expect a couple more signings for the Chiefs before the year is out, focusing on that centre spot and another at lock. Is it right that teams can stockpile our best talent? I would rather see our top five players-per-position playing every weekend than sitting in the stands, but with the players' collective agreement, that is a concept long since past.
Q. What do you think of Ben Smith as a wing and Tom Taylor as centre with the All Blacks?
Kevin Field
Happy with Ben Smith on the wing, although I would love to see him have a go at centre and we all know he's not a bad fullback. The reason I would like to see Ben at centre is because he is such a penetrative runner and things just happen when he has the ball. Give it to him more often and more things should happen. Also there is no direct replacement for Conrad Smith as yet and if we want to keep our threats in close to create space on the outside he's our man.
Tom Taylor I would prefer to see play in closer, 12 is my preference or even 10 (but we are not short of those at the moment) because of his ability to read and control a game.
The double playmakers, 10 and 12, have worked for the All Blacks in the past and with the speed of our ruck ball and the clearance from Aaron Smith, it makes sense to me to have two players capable of being the decision-makers at first receiver.
Q. I love sevens and respect Gordon Tietjens as a coach, but do you think players should play a certain amount of sevens before they get picked, rather than drafting in All Black speedsters for the Commonwealth and Olympic Games? For some sevens players, this would be their highest goal.
Kevin Barry
The Rugby World Cup 2015 and the Olympics 2016 are 10 months apart. That is the timeframe Tietjens has if he wants to target any of the current 15-man players for his Rio squad. Once that World Cup commitment is finished, making the Olympic squad must be a priority. Over that period it is boots and all for everyone. The more players Tietjens has fighting for a spot at the Olympics, the better the squad and our chances of gold.