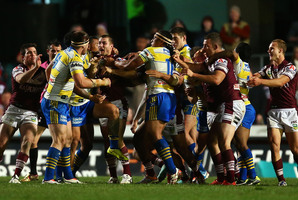 I used to love the biff but now it has no place in rugby league and I support hard-line efforts to try to eliminate it from the game.
A lot has changed since I used to run around as a player and the game is constantly evolving. The efforts to clamp down on punching is further evidence of that.
Sin-binning players who lash out is the right approach. If they are banned for a couple of weeks for striking, it won't eradicate the problem but it will quickly be less prevalent in the NRL.
If anything, I think Eels prop Mitchell Allgood's two-week suspension for his dirty work against Manly was lenient. He should have been banned for longer because what he did was disgraceful and it's a blight on a game whose demographic is changing - roughly half of audiences these days are made up of women.
I support what officials are trying to do but what disappoints me is the fact they don't use the sin-bin more frequently for other offences like high or reckless tackles.
Putting a player on report does nothing to benefit the team that is fouled. Quite often one of their players is injured yet the team who did the fouling face no consequences until the judiciary meet midweek and it doesn't harm their chances of winning the match.
Where's the justice in that? What does it have to take before officials take a strong stance? A career-ending tackle?
It's almost like they are too scared of making the wrong decision so they make no decision. I realise things happen incredibly quickly for referees but there are two referees, two linesmen and two video referees so, between them, they should work as a team.
It wouldn't be that hard for officials to quickly scan the video and make a strong ruling if necessary.
If they did that, players would have more faith in the system rather than taking the law into their own hands and looking for retribution in the same way Steve Matai confronted Allgood.
Another area that needs to be cleaned up is the third tackler who attacks the ball-carrier's knees. Players coming in and lifting the legs of the player with the ball is common but when the tackler zeroes in on the knees and uses force behind it, that's when serious injury could occur.
Again, what will it take before officials try to eliminate this? A career-ending injury to a high-profile player? What a waste that would be.
Melbourne have become the masters of the wrestle - they have turned it into an artform - but some of their tactics are questionable and they need to be watched closely.
The under-20s competition is trialling a video review system in which captains can make one unsuccessful challenge per half on things such as tries, knock-ons or strips - things that can be judged reasonably easily - and I like it. The technology is there, so why not use it? It hardly slows the game down because it's used when the game stops.
It's important officials get it right. Isn't it just as important they take the appropriate action against people who use foul play on the field?