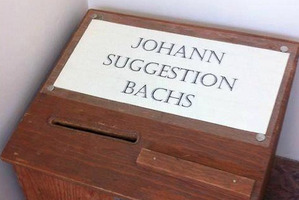 Puns for the highbrow: Who orchestrated this? (Via Reddit)
Lemon error doesn't grate
A reader writes: "Recently, some unsolicited mail addressed to my mother arrived at my place. It was promoting a lemon juice diet with rapid slimming capsules. Not only did she never live at my home, but in 1999 she passed away and was cremated. With her often macabre sense of humour, I can imagine her conjecturing on just how much slimmer this business thought she could possibly be ... "
Making a first class noise over nothing
"I was very interested to read about the protests regarding the Airways NZ Smart Approaches trial," writes a reader. "I live in Beachlands and if you took any notice of the map shown in the article, you will see that I live right under the existing approach path. We probably have many more planes fly over us daily than those in the trial and at all hours of the day and night. I don't have anything to complain about, the noises don't bother me or my young family. To those doing the complaining, stop being so elitist!"
Broccoli claim hard to digest
Surely US President Barack Obama wasn't serious when he told a group of children that his favourite food is broccoli? While at the White House's Kids' State Dinner Obama claimed to love broccoli now, but admitted he didn't go for it so much as a kid, the Washington Post reported. His affection for the vegetable is a contrast to former President George H. W. Bush who banned broccoli aboard Air Force One.
Paranoia is building
After a three-hour drive from Ontario a 63-year-old man trying to visit the Legoland Discovery Centre in Toronto was turned away at the door because he didn't have a child with him. John St-Onge has been a Lego fanatic ever since his children were young and he now has about 75 sets, comprising about 50,000 pieces of Lego. "It made me feel awful. I thought what the heck is the reason for this? If they gave me a reason maybe I could understand but they gave me no reason," he said.
Trendy way to go
A power outage in the inner-northern suburbs of Melbourne created a Twitter trend as the young and hip residents shared #hipstergeddon. Declan Fay tweeted that Brunswick hipsters had to "huddle for warmth around a single iPad. There is only 3 per cent battery left." Johan suggested that bearded men were under threat in Northcote: "Wild herds of cats are roaming down High St, dragging bearded men to the ground and devouring them." Shane Sullivan joked that folk rockers Mumford & Sons had announced a benefit concert for #hipstergeddon survivors. (Source: Sun Herald)
Picture this: It's never too early to get your child interested in the family business...
Maps: The true size of Africa...
Kidnapped groom prank goes wrong: They set off smoke grenades and threw him in the back of a van where he was bound, gagged and dressed in a Guantánamo Bay-style jumpsuit, driven100 miles and was then made to strip, given a mankini and bicycle and told to cycle to his stag party in Exeter, Devon, more than 10 miles away. Apparently this poor groom was so frightened by the whole ordeal he came down with a serious case of shingles and had to postpone the wedding.
Video: Motorcyclist saves cuppa...
Got a Sideswipe? Send your pictures, links and anecdotes to Ana at ana.samways@nzherald.co.nz