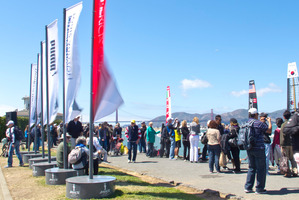 One of the pitfalls of walking around the America's Cup village with media accreditation around your neck is you're often mistaken for an official.
Trying to get anywhere in a hurry can be difficult when you're stopped every 5m and asked to be pointed in the direction of the toilets/foodstalls/bars (I regrettably still haven't discovered the answer to the latter).
You also get asked to explain a lot about the event itself.
While it's called the America's Cup, it's not an event that resonates with the everyday American sports fan.
This is the first time the regatta has been held in the US since 1995, when Team New Zealand beat Dennis Conner's Stars and Stripes, but even back then it was very much a niche event.
It's clear the locals don't quite know what to make of it all.
"How many boats are in this thing?" I was asked by one patron taking a stroll through the Cup village over the weekend.
When I told them there were four boats in total, they responded incredulously: "All this for four boats?" I didn't have the heart to tell them one of those teams, Artemis, may yet not take part.
If the public were confused what all the fuss was about before, then yesterday's much-hyped opening day of the Louis Vuitton Cup would have left them well and truly dumbfounded.
It was supposed to be the day that all the tragedy and controversy that has shrouded this America's Cup gave way to the brilliant spectacle of two monster catamarans match-racing around San Francisco Bay. But with Luna Rossa a no-show, Team New Zealand were left to canter around the race course by themselves to collect the point on offer.
Doing his best to explain the situation to the public gathered around the main stage for the "dock-out show" before the race, Team New Zealand boss Grant Dalton said: "I respect what Luna Rossa are doing, but christ almighty, this is a boat race!"
The result was as unsatisfactory to the team as it was the fans.
Team New Zealand might have come away with the point, but asked if it felt like a victory, skipper Dean Barker's reply was to the point - "No."
As I left the mixed media zone mulling over Barker's words, I was stopped by another patron and asked who were the Kiwi sailors all the reporters and cameras were flocked around.
"You're from New Zealand too?" he asked, noting my accent. "This thing's a big deal for you guys, huh? Why is that?"
I wish he had asked me an easy question like where the loo was. Everything about this event is becoming hard to justify.