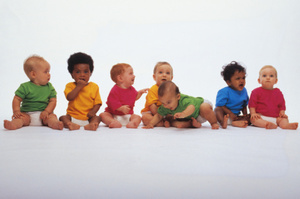 The Duke and Duchess of Cambridge are on what's called Team Green. As revealed in 7 reasons not to find out your baby's gender this term describes "expectant parents who don't find out their baby's gender" prior to birth. Team Green, of course, distinguishes such people from members of Team Blue and Team Pink, those who know exactly which flavour baby they'll be taking home.
When I was pregnant, my baby kicked so hard I decided it had to be a boy; sometimes I even wondered if he had rugby boots on. So, having eschewed the tests to discover gender, the arrival of our baby daughter was a surprise. And, sure enough, prior to the birth we'd had her bedroom walls painted a pale (gender-neutral and predictable) mint green.
There's something quaint and old-fashioned about actually waiting to see whether your baby is a boy or a girl - or, rather, a prince or a princess if you're Will and Kate.
With the rampant use of epidurals and the rise of C-sections and other interventions, this is one last facet of the birth process that can remain traditional, unaffected by progress and modern science. In such cases "It's a boy" and "It's a girl" are newsworthy statements rather than redundant phrases simply underscoring that which has already been established.
Many people relish the sense of anticipation that ensues from remaining ignorant in this regard. As the blogger at Baby Center wrote, not knowing "brings out the fortune teller in everyone ... the ridiculous gender-predicting games, the wives tales, the needle and thread and Chinese-chart games, the bump shape predictions, the morning sickness and heartburn analysis".
Women who elect to be informed are often given an indication of the baby's gender at the 20-week ultrasound. Yet that's not a definitive answer because "it's tough to get a 100% guarantee with ultrasound".
Tests such as amniocentesis or chorionic villus sampling (CVS) are needed in order to discover the gender for certain. I can't remember if I was offered the latter but I declined amniocentesis. Aged 38, I had the risk profile of the inelegantly named "elderly primigravida" but, having had two miscarriages, I feared the invasiveness of this procedure.
These days, it's possible to determine gender by analysing a drop of blood from the mother's pricked finger. Pink or Blue offers Gender Test Kits for "Baby Sex Detection at 7 Weeks Post Conception" that are said to be 95 per cent accurate. Its website asks: "wouldn't it be nice to know whether to choose the pink blanket instead of settling for the generic green one?"
Yet in some cultures discovering the gender of a baby isn't for frivolous reasons such as a general nosiness or interior decoration imperatives. As reported at Science Daily: "A preference for sons in China, India and South Korea combined with easy access to sex-selective abortions has led to a significant imbalance between the number of males and females born in these countries".
The Atlantic reports that "even though sex-selective screening is against the law in India, every year thousands of fetuses are aborted for being female".
The fact that female babies are so undervalued in some parts of the world is probably what led Pink or Blue to clarify that its product "is made for the mother who is EXCITED to know the sex of her baby!" This organisation, which will not ship to China or India, clearly wants to distance itself from any suggestion that its product enables sex-selection screening but surely it's naive to believe it will only be used benignly.
Did you find out the sex of your baby before birth? Would you? What do you think about the concept?