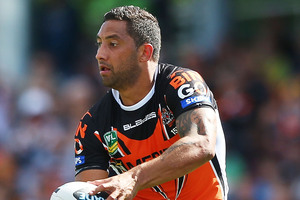 Just wait for the incredulous howls when, as will almost certainly happen, the New Zealand Rugby Union refuse to throw any money at Benji Marshall.
They probably won't offer him a bean and, far from suggesting they are out of touch with the professional game, it should be seen as confirmation they know how to handle themselves in a complex market.
The facts are these: Marshall is a 28-year-old NRL star (he will be 29 if/when he makes the move next year) who last played rugby when he was 16. He has a long, if not recent, history of serious injury and that, plus his age, would make him what the All Blacks call a 'red flag' athlete.
New Zealand already has one of those - he's called Daniel Carter and he's played rugby since he was five; been an IRB Player of the Year twice, almost won 100 caps and will, in all probability, end his career recognised as the best No 10 of all time.
Behind Carter there is Aaron Cruden and Beauden Barrett - two young men who have emerged through the development systems here. How would they feel, having worked as hard as they have over the last few years and having heard consistent messages that they are on the right track, to then see a pile of cash tipped into the pocket of someone who hasn't even played a game of senior club rugby?
If the Blues want Marshall then they alone will have to pay for him. They are able to offer him $180,000 out of their own pocket. Presumably Marshall will want significantly more than that - and that's when the NZRU will be asked to make a contribution.
So what's Marshall worth to them? They already have the best first-five in world rugby and two others who are test calibre. They know that no matter the skill level of the player, it takes time - quite a bit of time - to learn the art of game management at first receiver. They know that other league converts haven't been able to find their feet at No 10 - Iestyn Harris, Mat Rogers and Henry Paul were tried there but quickly moved.
Marshall is high risk without even being that high a reward. He'll unquestionably help fill seats at Eden Park if he comes, but that's merely another reason for the Blues to fund project Marshall on their own.
There are better things for the NZRU to spend their money on: Jerome Kaino, for starters. Like Marshall he's a risk - but far less of a risk. The All Blacks aren't certain about who their No 6 will be next year and 2015. Kaino, only having just turned 30 and given his proven ability, has been made an offer that makes returning realistic. It's far less than he currently earns in Japan, but crucially, it is not believed to be way less than what he earned before he left. Benchmarked against his peers, he's been made a fair deal.
This whole business of valuing players not currently playing here will come up again next year when inevitably talks begin to lure Sonny Bill Williams from the NRL. Should he be valued higher than Kaino? Does he carry the same level of risk or less? If Williams returned to New Zealand as one of the highest paid players in the country - would that be fair or unjust?
It's a tricky business but there is at least some confidence the NZRU are getting their heads around it.